When I first started running I used whatever sports shorts I happened to own at the time, and at the time what I had were baggy old gym shorts, some with the elastic thinning out. In college I was lucky enough to inherit from my roommate a pair of blue Nike running shorts. They were the first running shorts I'd ever owned and I thought it was brilliant the way the shorts were so light and airy and also had a handy inside pocket that fit a key or chapstick.
I still run in those shorts. Eventually I added a pair of Brooks running shorts to my collection and relied on doing regular laundry to have clean running shorts. For winter running I used sweatpants and old yoga pants until I found a pair of Adidas running pants that worked for cold weather runs. Eventually I added a pair of compression pants and then a pair of Nike capris for cool, but not cold, runs.
A couple months ago I reviewed the sports bra, tank, and pullover made by Gracie's Gear. In addition to her tops, Gracie Updyke has a line of bottoms in her gear as well. Given my spartan collection of running shorts and the pair of too big Nike capri pants I have, I was more than happy to also review the Gracie's Gear capris and shorts.
Comfy Capris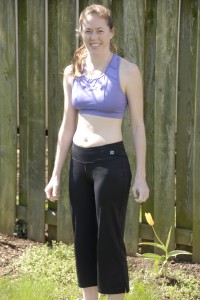 I remember when capri pants first came into style and I definitely fought that fashion. I either wanted to wear pants or shorts, not something in between. But then I started going to Pilates class. My running shorts were simply inappropriate for Pilates because of the way they don't stay put and are so loose and my sweat pants were always too warm. So I first accepted capris for the purpose of wearing something somewhat tight fitting but not too hot for Pilates class. Soon I realized that on runs in early spring or late fall, long pants were too hot and shorts didn't keep me warm enough. Again, enter capris as the solution.
The capris made by Gracie's Gear work beautifully for both Pilates and running and I also decided they are great for biking or spinning. They have a wide waist band but are low waisted so they are streamlined around the waist and are fitted through the knee with a slight flare below. There is a short slit on the sides giving the capris a cute style effect. And, true to Gracie's Gear signature element, there is a zip pocket sewn into the back side of the capris that easily fits my key, ID, or iPod.
I found that no matter what work-out I'm doing, the capris are simply the most comfortable I've ever worn. The fit is just snug enough that they feel form fitting but not too tight. The wicking and antimicrobial material they're made from means they didn't stick to my legs even after my sweatiest spin session. I have even gotten away with wearing them two days in a row without them being sweat through or smelling of a hard work-out.
The fact that these capris are both comfortable and cute means that I enjoy wearing them whether I'm working out or not–they've seen the grocery store, my friend's house, and lazy Saturday mornings.
Short Shorts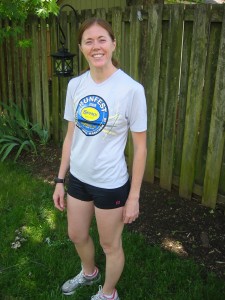 This year I watched Kara Goucher's entire Boston Marathon performance on Universal Sports and around the same time was reading about her training and lifestyle in Runner's World. I read that the shorts she wears are called buns and I've always wondered it's like to run in the super short shorts of Olympians. Gracie's Gear shorts are not the airy loose shorts I was used to nor are they buns, but they are by far the shortest shorts I've ever run in.
The shorts are made of the same polyester/spandex material as Gracie's capris and tops so they are form fitting by nature. When I put them on I was reminded of the spandex shorts we used to wear for high school volleyball. The pair I had did not sit low on my waist like the capris but instead sat higher, more on my natural waist. While this is not the most flattering look for me, it does mean that there is not a seam digging into my waist or hips. Running in them was comfortable for the most part but I was aware of the inside seam riding up a little.
Gracie's Gear describes the shorts as a half tight which is a good description. They're not quite as tight as my volleyball spandex, but they are certainly more snug than a loose running short. I thought I'd see how they felt as a biking short since most bikers seem to wear spandex shorts. If they were a tad longer they'd be the perfect biking short but as they're a shorter short, they ride up on me after about 30 minutes of biking.
Like the capris, the shorts have Gracie's handy pocket sewn into the back, convenient for keys, Gu, or other small items. I like the shorts, but I don't know that they'll replace my traditional running shorts. For runners who are used to running tights, however, I'd highly recommend checking out the Gracie's Gear shorts for their comfort and functionality.
To check out Gracie's Gear for yourself, just visit the website: Gracie's Gear and Training.