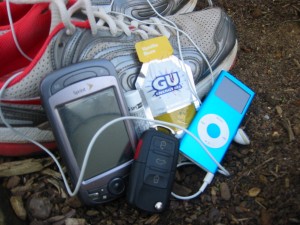 In college I read Tim O'Brien's novel "The Things We Carry" during my junior year when I was participating in Semester at Sea. My English class during that semester read books related to the history, culture, lifestyles, and people of the countries we visited and since Vietnam was on the itinerary O'Brien's novel was more than appropriate. If you have read the book you know that it's about the things Vietnam soldiers carried from tangible necessities to items for survival to intangible things like their thoughts, hopes, fears, and memories.
This may seem like a strange segue but at the kick-off to the Annapolis Zooma Run when I first saw the sports bras and tanks that are part of part of the line of women's fitness gear by Gracie's Gear, the first thing that popped into my mind was the title of Tim O'Brien's book. When I met founder Gracie Updyke and heard her story behind the gear it seemed even more fitting that I associated a sports bra and its innovative Power Pouch with the title of a book that is all about survival and human nature.
Gracie invented the sports bra that is now the staple product in her line of women's fitness gear when she was on a 20-mile training run. After hundreds of miles of stuffing her Gus, ipod, and cell phone in case of emergency in her sports bra she caved in and called her mom asking if she could sew a pocket to the front of the bra. The Power Pouch was born. A simple but practical idea led Gracie and her team to develop a line of sports bras, tanks, pullovers, shorts, and capris all with a Power Pouch integral to their design.
What Women Carry
Plenty of runners, men and women, carry an ipod when they run. I am not one of them so I can't entirely relate to this but I understand the benefits and joys of running with music. I have carried Gus, chapstick, my car key, my ID, my debit card, and water. I have often wished I had a small camera on my runs and I know some runners who do carry cameras with them. When Gracie told me about the runs she did while pregnant, it made perfect sense to me that she would want to have her cell phone with her.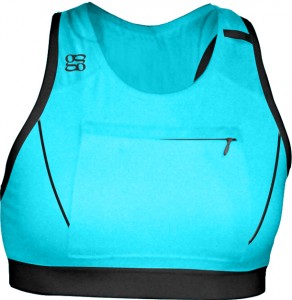 There are also plenty of runners who are minimalists, who run to get away from it all, and choose to carry nothing which I can definitely appreciate. And there are those who don't run at all because they can't carry their essentials. I have a friend who is an avid power walker but who also travels quite a bit. He's called me several times while walking and apologized for the wind but it was the only chanced he'd have to call me. He also owns his own business and wants to be reached if a client needs him but he is not interested in sacrificing his health and fitness to wait for a phone call. Granted, he's a man but there are surely women in the same situation–they want to be accessible. The Power Pouch enables accessibility because all of a sudden there is a convenient place to put your phone.
So we carry our stuff. But we also carry our thoughts, our body image, our goals, our stresses, our hopes, our fears, and our dreams. I know when I work-out is when I am focused most on all the intangibles I carry. I think about what I have to do that day, what I want to do next year, the vacation I wish I was going on, friends I haven't seen in a while, what to make for dinner, and how I'll get "it" all done in one day. I think about my form, training, breathing, marathons, the finish line, or just feeling good.
It might seem strange that a sports bra could support all of this–all of our necessary items as well as our hopes and goals–plus be properly sized for A-DD cups! But it can.
How? Gracie took her years as an avid runner, training as an exercise physiologist, and exercise science degree and focused on making gear that is comfortable to work-out in and has the added functionality of the Power Pouch. The elastic in the tops and bottoms does not dig into the skin, the tops are cut so that your armpits and other sensitive areas do not chafe, and all the gear is made with anti-microbial and moisture release fabrics that reduce odor and sweat in addition to naturally synthetic fibers. Plus, since Gracie's Gear is designed by women for women, it's cute!
Sound too good to be true? I promise it's not. I'm trying all the gear out and plan to report back. I'll let you know what I carry.