I am a firm believer that everything happens for a reason; whether I agree with the reason or not is something else entirely. For months now I have been training for the bike portion of my triathlon in a combination of ways. I started out in spin class at the gym until it warmed up enough this spring for me to bike outside. (Mind you, I ran outside all winter but biking in cool weather I find to be much more chilling, so I stayed indoors until the temperatures suited me.) I also worked the stationary bike into a number of work-outs mostly because I found it easier to do a controlled hill work-out on the stationary bike. Though I've been riding my mountain bike for my outdoor rides, I never planned to ride it in the actual race.
For the race, my plan has long been to borrow someone else's road bike. As luck would have it, a friend of my parents who is about my size offered her road bike to me for the triathlon. Wanting to get some practice time in on the bike I happily picked it up and accompanied my husband to our local Bike Doctor where he was going to buy a new bike and I was going to have the borrowed bike adjusted to fit me.
Almost from the day I signed up for the race my husband has encouraged me to just buy a proper road bike. My preference has been to make sure I like triathlons before making a purchase. I sat on the hardly ridden, borrowed Trek bike in the store and an associate came over and immediately (but nicely) squashed any thoughts I had of riding that bike. It is a size 54 and I was identified as a size 51. The seat is too far back and too angled down for me and the handlebars are too far away. I attempted the conversation of things we could do to make the bike work for me but with my husband and two associates pleading the case for why I should have my own bike, I finally caved. Buying a bike was not what I had planned for the day, but I guess that is what was supposed to happen. Let's just hope I love triathlons!
As Jeremy, our Bike Doctor associate started talking bikes, I peppered him with questions about each topic: aluminum frame versus carbon; pedals versus cages versus clip-ins; 9-gear versus 10-gear; female versus male frame design; wheel quality; handlebar set-up; water bottle cages versus camelbacks; gear shifters; maintenance. He certainly had more information than I had questions and I appreciate his patience with me as I agonized over every decision and their associated cost.
The bike we finally landed on for me was not in stock in the store at the time but a similar one in the right size frame was hanging on the wall. Jeremy took it down so I could ride it around the parking lot. While I don't think a parking lot ride is ever enough to really let you get to know a bike, it was enough for me to know that I will have to spend some time getting to know my new bike. Everything is different from my mountain bike from the way you sit, hold your hands, and change gears to the way it rides, which is a given.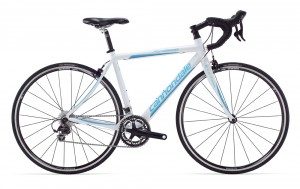 Back inside we placed the official order and I am now awaiting my Cannondale Synapse Feminine 5 in lightning white. The information dump I received just in the bike buying process is really only the beginning. I have many more questions, much of which I believe will only be answered when I start to ride.
And I have questions for you, too! What do you ride? Why did you choose that bike? Do you prefer clip-ins or cage pedals? What do you carry with you on your training rides? What about during the race (water, flat repair kit)?