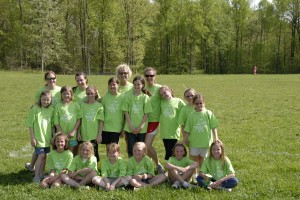 This spring I volunteered as one of three assistant coaches at Windsor Farm Elementary in Arnold, MD, for Girls on the Run. Every Tuesday and Thursday 15 third through fifth grade girls plus the coaches would meet to talk about life, confidence, making healthy choices, family, friendship, trust, self-respect, and a host of other topics designed to  encourage positive emotional, social, mental, spiritual, and physical development. In short, the program teaches girls how to avoid getting stuck in "the girl box" all while training for a 5K.
Each class day had a lesson paired with a running activity in which we practiced proper form, pace, breathing, and the basics of running. When I think about the types of games and relays we played we were actually doing the type of running you'd see on any training schedule–sprints, hills, tempo runs, and race pace. Even the day we played sharks and minnows had a lesson of teamwork in it and certainly some sprinting involved!
One of the goals of Girls on the Run is to teach the girls at a young age how to be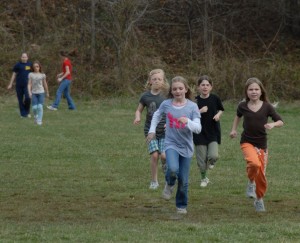 confident, healthy, and contributing members of their community, so as part of the program they select a community service project to complete as a group. The girls at Windsor Farm put their heads together and came up with not just one, but two community service, giving back, projects they wanted to do. First, they wanted to raise money for brain cancer research which gave them an opportunity to contribute to something much larger than themselves. And on a local level, they wanted to clean up one of the many waterfront areas near their school.
To accomplish the fundraising for brain cancer research, each girl was given a pledge form and had members of their family, teachers, and even classmates donate an amount per lap that they would earn during their practice 5K. I find it extremely impressive that these girls raised $800 for a cause that they know in their hearts is so very deserving. The head coach at Windsor Farm, Paula Waite, organized a beach clean-up at Sandy Point State Park in order for the girls to complete their local community service. On a gorgeous afternoon, with trash bags and gloved hands, a team of girls in fluorescent shirts combed the jetty and beach picking up trash, happily competing to see who could collect the most garbage. It was certainly the most fun I've ever had picking up cigarette butts and bottle caps!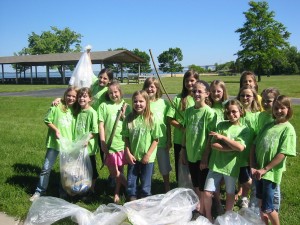 From learning how to deal with bullies to defining healthful snacks to realizing the value of giving back to the community to of course, running a 5K, Girls on the Run absolutely left a lasting impression on this season's girls…and on the coaches as well.
For information on starting a GOTR program in your community, please click here. For a list of Annapolis area GOTR schools, please click here.