For well over a year now, Wednesday nights have been my "me" nights. It started because I played beach volleyball with work friends on Wednesdays last summer and then over the winter it turned into my night to get drinks or dinner or work late, whatever I wanted to do. In January my best friend forwarded me an email of a new spin studio opening in Baltimore. So when we decided to check out the new Rev Cycle Studio, Wednesday was the natural night to go.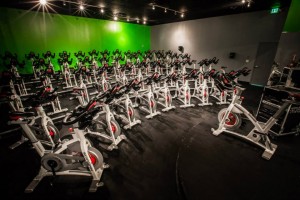 Our first class, and many Wednesday classes to follow, were taught by Esther Collinetti, one of the owners of the studio. I was hooked from day one for many reasons. Let's start with the bikes. I'd never been on a spin bike with a digital screen before so the console of the Schwinn AC Performance Plus bikes the studio uses were a real treat to be able to track pace, watts, mileage and effort. Obviously riding on a stationary spin bike is incredibly different than riding outside but I've enjoyed trying to compare my speeds and average paces inside vs outside to see what counts as comparable conditions (i.e., a windy day outside up a hill might equal power level 8-10 on the spin bike).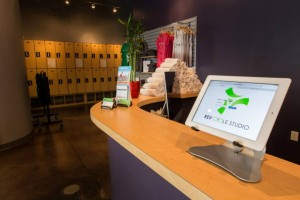 The studio itself is also easy to love. Despite the intense energy that comes out of the spin room, the studio radiates "zen" and a feeling of peace and calm and power. I'm instantly happy when I walk in and I love lingering after class to just soak in the energy of the people and studio (and also now the Gundalow Juice!). Part of the draw of the studio is definitely the people. Esther and co-owner Rick Zambrano as well as their entire staff are incredibly welcoming, warm and friendly. The day Rick welcomed me by name literally blew me away. Other than my local Irish bar, I've not experienced a regular personal welcome like that. I only go to Rev once a week but they know my name and it's the simplest thing but it makes me so happy to be part of that community.
And then there's Esther. Without a doubt, the reason I came back one Wednesday after another was to spin with Esther. She's a tiny powerhouse of inspiration that you simply have to experience. Never will you hear "fuck" more in any other class and love it. Esther's ability to push her class, get the most out of us, entertain and then push some more is a true gift. I'd never experienced any class like Esther's and it was addicting.
Rev60 Blast
During my first Rev class, essentially on the fly, Esther transformed one of the first Wednesday classes from a traditional spin class into Rev60 Blast. The general format is to spin HARD for 30 minutes–usually a combo of sprints, hills, jumps and intervals–followed by breaking into two groups and alternating 5 minutes off the bike doing arm work, 5 minutes on the bike doing intervals, 5 minutes off doing core, 5 minutes on doing intervals and then everyone back on for a final hard work-out, either a sprint or hill climb. The reward at the end is a perfectly chilled, lavender scented wet towel for each rider.
Like any class–spin, yoga, barre–any work-out really, you get out of it what you put into it. I find my Wednesday class to generally be the best work-out of the week. As the studio grew and classes expanded, Esther and Rick added more instructors and more classes; I hope to be able to get to more of them over time. My Wednesday routine is just one little slice of all that Rev has to offer. Candice Rush now teaches Rev60 Blast on Wednesdays and she's just as much of a motivator and powerhouse as Esther. She has helped keep me focused throughout each class and gives me something to look forward to each week. She, and the entire Rev team and experience, are truly part of what has helped me stay fit throughout pregnancy too.
If you like spin, Rev will make you love it. If you're in Charm City, check out the classes. I guarantee it will be a spin experience like you've never had before.