About a year ago this time I made the realization that there would never be a "right time" to start a family and told my husband I was ready to try. This was significant because in March of 2011 I had run a PR marathon and was mentally and physically preparing to try for a BQ (Boston Qualifying time) at the Marine Corps Marathon in October. I was pretty sure that if we got pregnant before that marathon I would have to change my goals and expectations. And that is exactly what happened. (It may seem strange that I am just now posting about last year's race but alas, I've just now found the time!) I found out I was pregnant over Labor Day and the Marine Corps Marathon is at the end of October. With my doctor's blessing, and a new target heart rate of 140-160, I set out to run the Marine Corps Marathon at 12.5 weeks pregnant.
Though I don't live far from D.C., I was able to stay at my sister-in-law's house much closer to a Metro stop that would cut down on my race morning logistics. When I went to pick up my packet on Saturday it was a bizarre weather day for our area–it was snowing! It was ugly, cold, wet and snowing in October. Race day fortunately was forecast to be sunny and clear albeit chilly.
Pre-Race and Race Gear
The day and night before any race is critical. A balanced dinner (I don't carb load though the meal typically involves pasta and some bread) and lots of water are had as early in the evening as possible so my stomach has time to digest and work out any possible discomforts from food. I had lasagna with my sister-in-law and her husband and went over the directions to the Metro with them probably half a dozen times. I laid out my race gear and hit the hay with the familiar anxious excitement I get before any big race.
Because I was not going to be racing for a PR  my gear and race plan was slightly different than usual. I've not raced with my cell phone before but this time it was going to be stowed in the back pocket of my Brooks capris so I could call my husband at the finish. I also had made the switch from using Gu (which tended to wreak havoc on my stomach) to using a mix of chews. While the chews provide just as much fuel and are easier for me to digest they require a little more pre-planning to transport because of their packaging. I divide Clif Shot Bloks into sets of 3 and wrap them in cellophane so they are easy to stash in pockets and on my race belt; I also had Gu Chomps. For this race I chose not to wear my own water belt. Again, because I would not be running for a PR I was ok with the idea of getting slowed down at the water stations and I planned to stop at every one of them.
I also planned to use the gear check so I could stay as layered up as possible prior to the start. Previously I might have skipped the hassle of checking gear so I could be at the start line warming up as early as possible but this time I planned to stay as warm as possible as long as possible so I made sure the race-approved check bag was ready to go with my corresponding bib number.
Race Morning
Race morning was cold! And I was surprised (stupidly) to find that my car was covered with an icy layer that I had to scrape off before I could head to the Metro. My plan was to get to the Metro more than an hour early and I made it there without getting lost (which is saying something!) and was one of about 3 other cars in the parking lot. I made sure I had my phone, some cash, a prepaid Metro card and my gear check bag. I ran into the Metro to get my body heat moving and also to make sure I got the first train possible coming through the station. Once inside I waited, and waited. More runners showed up and we waited, and waited. And as we waited I realized I had on my Garmin watch but not the heart rate strap. Shit!! The whole idea of this race was to run it watching my heart rate. I would have to leave the Metro, get to my car, get another Metro pass and hope that I didn't miss the train. Time was already closing in and so I decided to skip returning for my strap and just go by feel during the race.
Finally the train arrived and along with hundreds of other runners on the train we headed toward the Pentagon start area. I was not the only one anxiously checking my watch. (I no longer recall what the start time was but I know we were getting to the point of missing it.) When we got off at the Pentagon stop we had about 10 minutes, if that, till race start and to my surprise we were at least a quarter mile from the start area which was then at least another quarter mile from the actual start line. I still had to pee and drop off my gear. So I started running.
I'm just not sure I've ever seen so many runners so late for a race start! I've never been so glad to not be running for time. It was somewhat surreal to be listening to all the pre-race announcements while in the porta-pot line rather than in my start corral. But by the time I had used the head, dropped off my gear bag and ran to the starting corrals, there were still plenty of people waiting for their corral to move forward toward the start line. I wove around the various corrals and dropped myself somewhere around the 4:30 pace group.
My goal was to finish somewhere between 4:30 and 5 hours.
The Race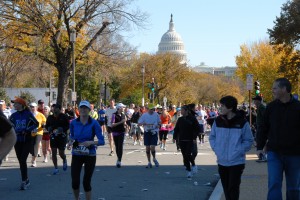 I knew a little about the course going into the race and I knew that it was mostly flat and had overheard some other runners during packet pick-up talk about a section that was 'lonely' and typically had a strong headwind. And of course, I knew that it covered Washington D.C. But I had no idea how incredibly beautiful and scenic it would be. I LOVED this race course and vowed probably within the first 10k that I would like to do this marathon as often as possible.
There was a slight incline I think within the first three miles and I remember thinking that the only reason it felt challenging was because I was pregnant. Any other time I would have charged up the hill but I stick with a slow and steady attitude to get up the hill. I also remember that it was right about this section of the race that I saw the first porta-pots. I didn't have to go that bad so I decided to wait for the next set…in hindsight I probably just should've stopped.
At all the water stops, water and sports drink was handed out by Marines and at the first one I took a cup from one of the youngest looking Marines whose lips were purple, his hands were shaking and he was just shivering from the cold. I felt so bad for him! And it was cold to be standing handing out water but near perfect running weather.
We continued along some scenic residential areas and my next pit stop was at mile 7 where I stood in the porta-pot line for probably 10 minutes. I stopped my watch and just tried to take in the whole experience and not think about the time I was losing. Plenty of other runners had been pulling over into the bushes on the side of the road but I figured I should take advantage of a porta-pot where there was one. In line behind me was a runner 25 weeks pregnant; so cool!
In addition to us pregnant racers, there were many far more impressive runners on the course. Marines and other military running with huge, heavy packs and in their combat boots. Marines running while pushing wounded fellow soldiers. Wheelchair racers, Marine and civilian. Blind runners racing with a guide. Autistic runners racing with a guide. Runners sporting their 'first 26.2' t-shirts. Runners sporting shirts documenting the tens of times they've run this marathon and others. So many impressive runners who never cease to amaze me, remind me why I love running and also remind me to be so grateful for what I have and am capable of achieving.
I felt pretty fantastic through about mile 14 and then I started to run/walk (I think this was the case, it was 7 months ago!). The 'lonely' section at Hains Point I did not find lonely at all nor was there the typical headwind for which I was grateful. I did finally have to pull over and squat behind a bush when I realized the next porta-pot stop would be a ways off. Fortunately I had stashed some TP from the previous stop. (In case you can't tell, this whole race pretty much centered around pit stops.)
I also had family ready to cheer me on after the Hains Point section and it is always rewarding to find someone you love in the crowd waving and cheering. In this case, I stopped and walked and chatted—again, something I'd never have done running for time. Running the George Washington Parkway, through Georgetown and along the Mall was all spectacular. I saw D.C. in a way that I'd certainly never seen it before and found a whole new appreciation for our nation's capitol. It really is incredible. The course is such that I almost lost track of the fact that I was running 26.2 miles. But then I got to the bridge before the last 10k, the section referred to as "Beat the Bridge."
Just before the bridge was an amazing team (band?) of all female Marine drummers. Their drumming was so powerful that I found myself near tears as I approached that bridge. The bridge was awful. I definitely had to walk and it seemed to go on forever. And then it ended and we were at the home stretch with an unexpected uphill finish to the Marine Corps War Memorial. During the last few miles I also had to walk and I was very frustrated that I couldn't fully run the end of the marathon though I did run the last 1.2.
The finish area was a bit congested but not so congested that I was bumping elbows with other runners; that happens after the finish line where we were shuttled into corrals toward the Memorial where we'd receive our finish metals. After exchanging some texts with my husband I headed to a corral closest to him and beamed as I showed him my watch.
I had stopped my watch during each pit stop so my 'run' time was 4:37. My actual finish time was 4:57. So I finished in my 4:30-5 hour goal time.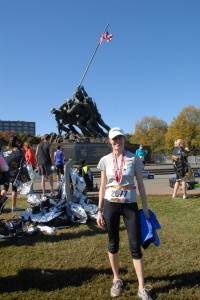 Oorah!