On our flight home from the Cooper River Bridge Run I was still on such a high from my 10k time that I decided to register for a local 10k to see if I could maintain that performance. The next opportunity I could find was the Father's Day Dawson's 10k in Severna Park which is a race I've wanted to do for a few years now. I hit submit on the registration form and had the June 16 race on my calendar. I also had my eye on a few 5k races, two of which I did last year. The first 5k in June I  skipped but weather and timing was looking perfect for the second annual Run Awake 5k…except it was June 15, the day before the 10k. I registered anyway.
I had just started back into marathon training two weeks before the 10k with a focus on speedwork so I was curious what would happen at the 10k race. My hope was to match or beat my 7:20 pace from Charleston. Leading up to the race the weather was looking iffy and I have been fighting a cough and congestion so my standards for optimal performance were starting to dwindle.
Running a 5k With a Stroller
Though my focus was on the 10k as far as racing was concerned, I found myself more stressed out about running my first 5k with my now 1+ year old in the stroller. How many snacks would I need for him? Remember sunscreen. What if he doesn't wake up by the time we need to leave for the race? Don't forget water for him. What if I run into other runners, or strollers, on the course? Try to change his diaper before the race. Will it actually be fun?
Somehow all the details came together. I packed and prepped as much as I could the night before and luckily Connor woke up right on time Saturday morning, about 6:50am so that we were out of the house on time and at the race venue around 7:20am. We were checked in plenty early and I situated us at the very back of the pack at the start line. I almost immediately regretted it when the gun went off. I'm simply too competitive. And I've been "stroller running" for over a year with a sub-9 minute pace so I quickly, and carefully, moved my way forward until there was breathing room. And then we settled in.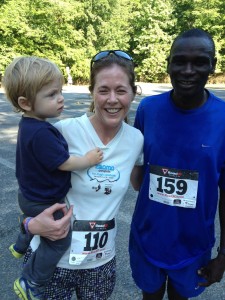 Connor didn't make a peep during the race but afterward he had a great time walking around, clapping and playing on the playground with other race friends. I also realized that this 5k was my first race after I had him and it was a special moment to have run the race with him a year later. It will become our new tradition (for as long as the race is around).
Later that day I Googled info for the next day's 10k. I discovered a couple great things. The weather was looking better–no rain! And, the better part, the race was a lot closer to my house than I thought. I realized I could run to the start and home from the finish, and therefore still get in my long run for the weekend by adding in a quality warm-up and cooldown.
10k After a 5k
I gave myself 30 minutes to jog the 2 miles to the start and ended up with plenty of time to kill. My warm-up pace goal was anywhere around 10 minutes and my hope for my 10k pace was 7:20. For most local races I am relaxed and usually in a mindset of just enjoying my surroundings. I tried to get myself to this place mentally but I was very focused on how I would run, who I could pace with and what the out and back, mostly flat course would hold for me.
At the start line I intentionally, selfishly, and proudly went to the front. I was in the third row of runners and I knew exactly who around me I wanted to pace. With in the first 30 seconds, when my watch read 6:52, I knew I had been too cocky, had overestimated myself. I decided to hold the pace as long as I could which lasted about a quarter of a mile. Then I decided to settle into my race pace which ended up being 7:33 on average. I dodged around a few folks and homed in on a few "age group ladies" that I wanted to stay around. One I never caught, one I passed and one took me by surprise. Overall I was the 18th woman but in the 30-39 age group it turns out there was a lot of great competition. I finished with a 46:30 time.
I used the race to practice a breathing method I've been trying since I read about it in RW. Three breaths out and two breaths in. I used the race to test my threshold. For the life of me I could not maintain 7:20 but I felt pretty darn comfortable at 7:40. I used the race to remind myself that running faster, racing faster, requires running faster…no matter how hard it is. And that is the whole point of training.
So can you run two races back to back? Sure, I've done it before. Last time it was a 5k and then a marathon. This time, the 5k to 10k had a very different level of effort but it was racing nonetheless. And either way, I think it requires training and a mental determination that it can be done.
Not that I expect it to become a habit…but it was fun!