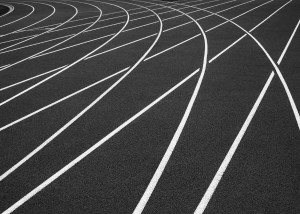 I have been running 9-minute miles for as long as I can remember. Every now and then there is a little variation with my slower time hovering around 9:12 which I usually see on runs of 10 miles or longer and my lower end averages 8:54 on my shorter runs. And for as long as I can remember I have been perfectly content with my 9-minute mile pace. Until this spring. After I ran my first marathon and tacked some other races onto my spring and summer schedule I got my head wrapped around the idea that I wanted to run my 10K in 8:30-minute miles and maybe even try to run my 10-miler at the end of the summer in 8-minute miles.
I ended up dealing with ITBS recovery after the marathon and wasn't able to ramp up my training to make my 10K goal but there is still plenty of time to work on my 10-miler goal. I've always thought it would be nice to have a slightly faster pace, but I never sought out the ways to make it happen. Since I have been triathlon training, however, my eyes have been opened to a whole new way of training. Instead of just going out and running at my same old 9-minute pace and consistently adding miles, I have *gasp!* been training with variety! Not only have the weekly work-outs included swimming and biking by necessity, but even the weekly runs are different.
This spring and summer I learned about and experienced running strides, tempo runs, different ways to run hills, and a variety of interval work-outs for the track. In hindsight, I realize there are two reasons I never integrated these kind of work-outs into my training previously. One was that I was intimidated by them and afraid I would do them wrong. The other is that I was so focused on adding miles to my total weekly mileage that I didn't take the time to learn the benefits of other kinds of running. I wanted to get faster but I wasn't doing a single thing to train my body to be able to run faster.
Now that I see the value in practicing strides, tempo runs, and intervals it is important to me that I have one of these work-outs in my running schedule in addition to a long run and an easy run for the week. I'm still not positive that I'm doing them all correctly but at least I'm training my body to experience faster and harder runs. I believe that slowly but surely I will see the seconds tick off my good old 9-minute pace.
While there's always something positive that can be said for consistency, sometimes change is good.