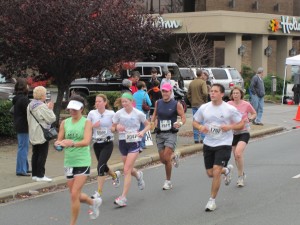 One of the ways I occupied my mind during the 2009 Richmond Marathon was thinking of all the reasons I love runners. I thought it would be fun to share some of the things I came up with and I encourage you to post in the comments why you love runners. The more reasons, the better!
I love runners because…
They are motivated
They are motivating
They set goals and then set out to achieve them
They don't care about toenails and are happy to talk about the loss of toenails without getting grossed out (one of my favorite stickers I saw was "toenails are for sissies")
They will set aside any number of aches and pains to get through a run
They will put their name on their shirt or bib and then be surprised when someone cheers for them by name (I did this exact thing in Richmond; I was confused as to how someone cheered for me by name until I remembered it was on my race bib!)
They will run in a costume
They will talk to anyone–runners are by far some of the friendliest people I know
They appreciate getting a good night's sleep
They run for a reason, or they run to find reason
And I Run Because…
I was about 4 years old during my first 'race' against another little boy my age when my parents knew I'd be a runner. But they never pushed me and despite having run track and field in high school I didn't become what I consider a "real" runner until college where I ran for fun and fitness until I signed up for the Cooper River Bridge Run 10k in 2001 which got me into racing. After college, the Annapolis 10-miler gave me a taste of distance running and in 2008 I trained for and raced my first half-marathon where I promptly became addicted to distance running. I have completed 4 marathons with a PR of 3:45:09, numerous half marathons, 10ks and 5ks with a 5k PR of 22:38; I also got into triathlons and raced a Half Ironman in 2009.
The 'why' behind my running changes on a regular basis. The constant reason is because I genuinely enjoy running and training. Running makes me feel good, strong, confident and happy. It relieves stress, helps me explore new areas (literally and figuratively) and gives me perspective. But I also run because I can. I remind myself often how fortunate I am to have my health and strong legs. I run because other people can't. And when I run I think about all the people who are doing things much harder than running (fighting cancer, saving lives, overcoming extreme challenges) and that inspires me to keep running, to push as hard as I can and to run for them when they cannot.
And now I am a new mother (my son was born April 15, 2012) so I run because I want my son to know me as a runner. I run so that I can have 'me' time but also so that I am a healthy mom and will be able to one day keep up with my son. I am training for the Baltimore Half Marathon this October and my runs have a whole new meaning to me and training is a whole new challenge. These runs are proving to me that I can balance motherhood, a full-time career and achieve successful runs and hopefully new PRs.
Why do you love running and why do you run?