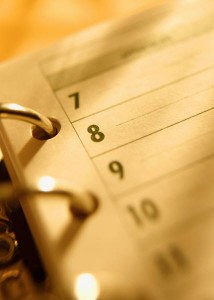 There is officially one week until my first marathon. Last week had a bit of a monkey wrench tossed in because of pain I started to experience in my IT band. I (almost) immediately switched to cross-training and extra stretching and will continue that this week. After an easy 3 miles on the treadmill today I am convinced that with another week of running rest, I should be good to go on March 1st.
My plan for the rest of this week is to put in three more days of cardio on the bike, a Pilates session, and two days of stretching and rest. I will drink a lot of water and do everything in my power to eat healthy, well balanced meals. I will need to do some research tomorrow to see what exactly those meals should consist of, but I'm pretty sure the pre-race diet doesn't include pizza, nachos, cookies, and ice cream. Good thing I got those out of my system this weekend!
I am also extremely aware of the mental game of marathon preparation. I have looked at the course map dozens of times, even though it's an easy up and back route. I'm appreciative of the number of aid stations that will be set up along the way and have family and friends coordinating where they'll be along the route. The forecast as of today for next Sunday is not ideal, but anything can happen in a week. Mostly, I'm just ready and excited. I want to do this race. I want to git 'er done. The anticipation of it and the things I want to learn, read, and write about in this week make the week seem like it will fly by. In no time I will be pacing around the start line.
What is your pre-race week routine? Any words of wisdom?