When I found out I was pregnant I was about two thirds of the way through marathon training for the Marine Corps Marathon. One of my first questions to my doctor was whether or not I could run that marathon at the end of October which would be the start of my second trimester. I was mentally prepared to run it regardless of the doctor's answer but I knew I'd feel better having his approval. The doctor confirmed what I believed, and what I'd heard from others–it would be fine to run the marathon, just slower than I was planning. Because I had been training already, but more so because I'd already been running for years rather than having just started mid-pregnancy, my body would be able to handle the miles even while carrying a growing baby. What I really wondered is what running pregnant would do to my pace.I spent some time reading a forum on Runner's World about the experiences of other pregnant runners and what I learned quickly, and what is also obvious, is that running pregnant is different for each woman. Some women maintained significant mileage and fast paces while others scaled back the miles and their pace. And then of course there is the Chicago marathoner who gave birth after completing the marathon!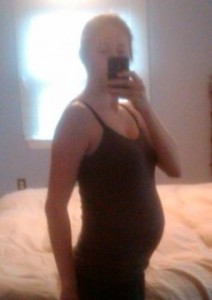 My running plan all along was that after the Marine Corps Marathon I would simply run as often as I could and for as long as I could. My hope was that I would run up until giving birth. I delivered a little early at 36.5 weeks and my last logged run was at 35 weeks. All throughout this running pregnant experience I tried to keep telling myself that my experience was my experience and it would be what it would be. But I still wanted to know what might be 'normal' and what others experienced. I wanted to know how much slower I might get, when and if I would have to walk, how far I could or should be able to go. I was looking for experiences of other pregnant runners to base my own around but I honestly didn't find many others out there talking/writing about this. And of course, I shouldn't have tried to compare my pregnant running to anyone else's anyway.
But, in the off chance that someone else is curious what happens to pace during pregnancy, here's an overview from my own logs:
 From September 1 through April 8 I logged 95 runs (I know there were some power walks and run/walk combos that aren't logged)
My goal was to keep my average heart rate between 140-160 and on runs up to 5 miles it was 145 (I took out my longer marathon training runs from this calculation since the majority of my pregnant runs were under 5 miles)
By the second trimester I was still running 3-4 miles but my pace crept up to what I would estimate as a 10:30-11 minute pace
By the third trimester most of my runs were actually run/walk combos and very slow, hovering close to a 12:00 pace and if I made it 3 miles it was a big accomplishment
Looking back at the logs, I have a sort of mental/emotional distance from those final miles at slow speeds. I am just proud to have stayed active during pregnancy and even though I didn't keep up the miles or speed I secretly hoped for, I did my best and also experienced a new kind of 'running' during pregnancy. I listened to my body. I walked when I needed to walk and on some days I didn't go out at all. I learned how to run without training for something, to just run.
And now, I am working on getting back to my pre-pregnancy pace. 🙂