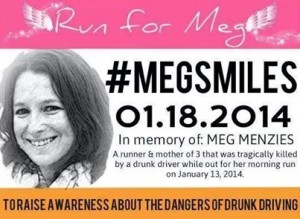 I didn't know Meg Menzies. I didn't know James Callaghan. I didn't know Trish Cunningham though I knew other Annapolis Triathlon Crabs who did. And I only met Doc Heslin once but knew his legacy through my husband and the Severna Park community who adored him. I ran on Saturday, January 18, along with about 150,000 others around the globe who collectively logged more than 108,000 miles (four times around the planet) for #megsmiles.
I ran because Meg was tragically struck and killed by a drunk driver while out for a morning run and she could no longer be on this earth to do what she loved. I ran because at almost the same time James was struck and killed while out for a morning run and is no longer on this earth to be able to run. I ran because Trish was hit and killed while out on an evening ride and she is no longer here to be able to ride. I ran because Doc was hit by a truck and killed while out on a ride and he is no longer here on this earth to do what he loved.
These tragedies are just that–tragic. And like so many tragedies they bring together a community of loved ones as well as total strangers who band together through social media, local running groups, and individual efforts to do the thing that gives us strength and hope that we can somehow provide strength to those who need it most–we run.
We run and we are reminded to be so incredibly grateful for being able to do so. We run and we grieve for the families that have lost their loved one. We run because we know it will bring a little bit of peace in a very loud world where unpredictable and incredibly sad and unfair things happen every day.
We run because we don't want a moment of regret in the time that we have on this earth.