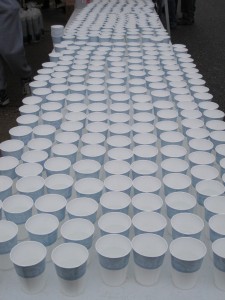 In any race I always make a point of saying 'thank you' to the volunteers. Volunteers are critical for making a race successful and for making the runner's experience positive. They provide everything from security to safety to organization, signage and the all-important water stop. A couple years ago I volunteered for the Zooma Half Marathon in Annapolis and worked the gear check station which was a great orientation to the 'behind-the-scenes' component of an event. Now I can say I have been on the other side of the cup having completed my first water stop volunteer experience.
My original plan had been to run the B&A Marathon this year and I 'saved the date' on my Outlook calendar for the day I planned to register (the day before the price increased). Unfortunately my money-saving plan cost me entry all together. The race filled up early! A running friend suggested I volunteer with our Annapolis Triathlon Club at their water stop which I thought was a great idea. The ATC volunteer leader did a great job getting us all organized, giving directions and rallying plenty of Crabs to work the double-tent water stop.
As with any race–running it or not–I obsessively watched the weather forecast. Marathon morning was predicted to have rain and wind. Never have I felt so relieved to have missed signing up for a race! Our group of Crabs met around 6:30 at the water stop and were quickly at working raising the tents, moving tables and pouring out water and Gatorade. We also had a few boxes of Power Gel to hand out, tons of pretzels and animal crackers and a container of oranges.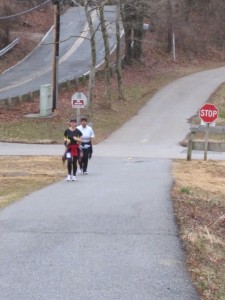 The B&A event is a half and full marathon event that also has an early start option. It was predicted we would see the first runners around 7:30 and that is just about when they arrived at our stop. The lead runners whizzed through closer to 8 and not long after we had waves and packs of runners for about a solid hour and then it thinned out to smaller batches with the last runner going through our stop by 10 a.m. As could be predicted, the gels and oranges went quickly and I was surprised by the number of runners opting for Gatorade over water. I guess it's not that surprising; I just happen to be water drinker.
We actually got pretty lucky with the weather and didn't have the steady downpour I was expecting. It was windy, chilly and wet and I was still glad I was volunteering rather than running. I was also glad to be wearing my foul weather gear as handing out cups of liquid to people on the move turns out to be a rather wet experience! The trick is to hold the cup out and up. The experienced runners definitely have a routine of how they like to receive their fuel and it was cool to see so many of them in their rhythm.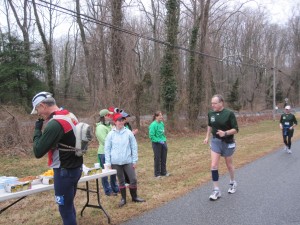 In addition to keeping the runners fueled up at the water stop, the other main role of volunteering is cheering. In a race there is nothing like crowd support and it is just as much fun to give it as to receive it. Our water stop was at the top of one of the few hills on the course so it was an ideal place to encourage runners up the hill, rewarding them with drinks and food at the top.
If you've not had a chance to volunteer for an event before, I strongly recommend it. Whether you help out at a local 5k or sign-up to donate your time at a big event, the motivating energy of running is just as contagious regardless of what side of the cup you are on.