Normally Monday is my 'off' day. But on this Monday I had made up my mind to do a quick 4-mile tempo run. As is my usual schedule I was up  by 5:30 a.m. rolling right out of bed and into my running gear. I put my shoes on downstairs while the Garmin sits outside the front door loading satellites. It was still chilly, not quite spring running weather and I had on running tights, my favorite cold weather top with reflective piping, hat and gloves. I started jogging like I do every run using the first mile as a warm-up.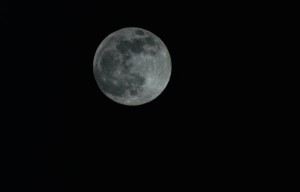 Since my husband and I moved into our new house almost a year ago I have loved most everything about it and the neighborhood. My only beef with the neighborhood is that even if I dip in and out of every side street I can only run about 6-7 miles before I have to start running laps or cross a busy main road to get to the running trail. It's an old neighborhood, safe, with lots of trees, an elementary school smack in the middle and if you run to the end of the road you hit the Chesapeake Bay. And it has a lot of ideal 3-4 mile routes.
I was about halfway through my mile one warm-up and had gotten to the part where two neighborhoods essentially intersect. As I passed under a street light I heard in a loud, clear, man's voice: "Damn, that's a fine looking ass." What?! My radar went up a little and I thought 'hmph.' I have been heckled before while running by children; one older woman who once laughed at me while smoking her cigarette and said "Run Forrest, Run;" and one morning a car of guys yelled out the window to me, "Go home!" So this man yelled at me and I kept running.
I looped around the same road I was on to where interior streets intersect with it making my way back out to the main neighborhood road. It was not yet 6 a.m. As I approached an intersecting street I noticed a car reach the stop sign. I was on red alert. Watching for the car to turn right or left I picked up my pace passing it and as I was realizing it was not turning I heard the same man's voice yell at me again, (sorry for the profanity folks but I'm telling it like it was): "Damn, I wanna fuck that pussy!" I heard the car behind me and I was sprinting for my life.
I made it out to the main road and dipped into the next neighborhood street hoping I had done so under the cover of darkness so the driver could not see me. I ran to the first house with a porch light on and that had two cars parked in the driveway. Hiding between them I watched a silver sedan slowly creep down the main road. He hadn't seen me. My heart felt like it was beating out of my chest. Looking up I saw that a woman was coming out of the house next door packing her car for work. I walked over, trying not to startle her and calmly asked if she could give me a ride out of the neighborhood after explaining what happened.
The neighbor drove me back to my street and I hopped out at a stoplight sprinting the last quarter mile back to my doorstep. I walked in and stared at my husband until he opened his eyes and then burst into tears telling him the story. By that time the creep would be long gone and we hashed out my next run. I went from being terrified to angry. How dare that asshole mess with my running. It's what I love! Don't scare me. Don't do that. Then I started thinking about all the school bus stops in the neighborhood, other runners, other women who are out at that early hour. I emailed the neighborhood association to inform them of the incident and at their direction had a police officer come out that day so I could file a report.
Lessons in Safety & Running Alone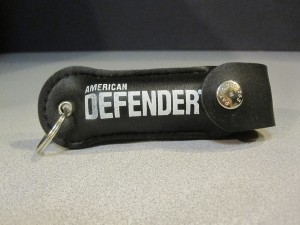 The pact I made with my husband is that I would start running with the can of Mace that I've had for years but never carried. I hate this. I hate doing it and I hate that some creep scared me enough to feel like I have to be ready to protect myself in my safe, family neighborhood. The very next day I ran the exact same route, Mace in hand, cell phone in a pocket…and my husband 100 yards behind me on a bike just to make sure. The next day I did it again this time sans husband. And again, and again.
Now the sun is coming up a little earlier and I recently made the discovery that my pit bull puppy has an 8:15/mile pace and makes a pretty darn good running partner so she has joined me on early morning runs (if I could get her to look intimidating rather than adorable that would help a little more but just having her with me seems to add security). My warm weather gear does not have the pockets that my cold weather gear does so I'm not sure yet how to run with my now requisite 'safety' items. But under husband's orders if I want to keep running at o'dark thirty I will find a way.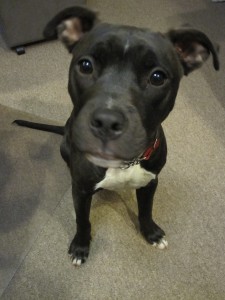 Lessons learned? Plenty! Even the most seemingly safest places can unfortunately have a dark side. Running alone, in the dark, as a female is not necessarily the smartest decision. Be aware of surroundings. Having run the exact same streets three to five (or more) times a week for an entire year doesn't mean you know what's lurking on every corner. Be alert. I don't run with music–I really do prefer the quiet and hearing my own footfalls–but for those of you that do, make sure you can hear what else is going on around you. Like in boating, leave a float plan. Make sure someone knows you're going running, where and for how long.
And not to make light of it, but my other lesson learned? I have more speed in me than I thought. At the peak of sprinting away from the creep my pace hit a 5:44!