I laid in bed listening to the rain and was excited to get up and run in it for two reasons. One was that it was going to be my first post-partum run sans stroller and sans walking. The other was that I was eager to try out a new jacket from Under Armour designed for the exact purpose of running in the rain.
All I had to do was wait for the baby's naptime so my husband could hang home with the two kids. It had been two days since my last walk/jog combo and I wanted to give full running a try. I also wanted to extend my distance up to four miles–my first 10k race is only four weeks away! I snapped the tags off the Qualifier Jacket, added a hat under the hood and headed out. The rain was by no means a torrential downpour but it was heavier than a drizzle; the mild fall temperatures were also perfect for running.
Even thou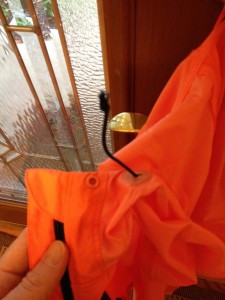 gh I had a hat on, there was enough rain that I wanted to use the hood; there's nothing worse than rain dripping down the back of your neck. I had the hood up and pulled the elastic strings to tighten it so it wouldn't fall down. The left one broke off in my hand. It snapped right out of the rivet and I was instantly bummed. To keep the hood up I just tied it to the right hand string which I had to retie a few times during the run. Super frustrating.
Through the first mile I was so distracted thinking about the new jacket that I'd barely noticed my progress…which was great! I was jogging comfortably with no pain and no need to walk. I was also hovering around a 9 minute pace which was faster than I expected. Back to thinking about the jacket.
My UA Qualifier Review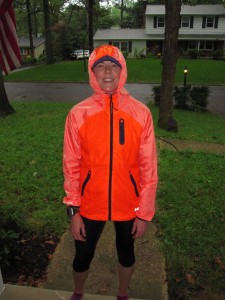 I was comparing the UA jacket to a lightweight Patagonia jacket I've had for a few years that I've always wanted to work a little better than it does. That jacket soaks through almost instantly and is the same stitch and fabric weight throughout. The UA jacket has what I consider reinforced patches on the front chest which I appreciate since that area catches rain first. But as I was running, I thought about how the elbows are also a prime target for getting soaked just by the pure nature of running form. A little bit of reinforcement on the elbows would be ideal. The other difference between the jackets is ease of movement. I did find the UA jacket to be extremely comfortable. It didn't ride up (my Patagonia jacket does a little, not ideal in the rain) and arm movement was not impeded at all. There's also an annoying sound some jackets made while you run–it's just the nature of fabric and stitching–but I have to say that this jacket didn't have the loud "shuffle" sound I've experienced with other jackets.
Well into mile two I decided I would definitely be running the full four mile route. I simply focused on my breathing, tried not to pay too much attention to my pace and focused again on the jacket. Running in the rain means you tend to spray up from the back of your foot with each footstrike and meanwhile rain is coming down, so the butt is yet another prime target for getting soaked. If the UA jacket were a hair longer in back and possibly had a little "duckbill" style to it so that rain could slide off and out, away from the butt, that would be a nice improvement to the jacket. My Sierra Designs "day-to-day" rain jacket has this feature and it makes a difference.
Into mile three I was really enjoying my run. I was glad it wasn't pouring and I was proud of myself for being out there in inclement weather. I will need to proactively do more runs like that to prep myself for a winter of running outside to get trained up for Boston. There was just enough rain, and just enough chill in the air though that I started to fist and unfist my hands to keep them warm and dry-ish. And this motion lead me to an idea for a design feature I've not seen on any running jacket.
The ideal rain jacket would have a little bill that would flip over just the fingertips leaving the underside exposed. All five fingers would tuck inside but the outside of the hand would stay dry. This little half-mitten style could fold out either from the top or from the inside of the wrist but either way would be a welcome feature.
By the end of my run I was still a big fan of this new UA jacket (who very kindly replaced it for one without damaged hood strings) and was thrilled to have just completed four miles without walking at 6 weeks post-partum.
Let the rainy runs continue!