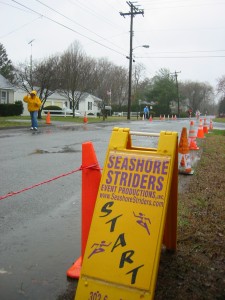 March 13th was the third annual St. Patrick's Day 5K run and walk put on by the Seashore Striders in Denton, MD. The race is an event centered around the community and supports the Caroline Human Services Council which provides programs for children and youth in Caroline County. I was signed up for the 5k along with friends and colleagues from Benchworks and was planning to use the race as a benchmark in my preparation for the upcoming 10K Cooper River Bridge Run in Charleston.
When I originally signed up for the Bridge Run I set the goal of completing it in the 48 minute bracket in order to achieve an 8-minute pace. However, due to the triathlon training I've been doing, I'm only getting in three runs a week and have not dedicated as much time to speedwork as I had been planning. All of my runs have been averaging anywhere from an 8:40-9-minute pace so I was curious to see what I might be able to achieve at the 5K.
The forecast was gloomy at best for race day–53 degrees, 100% chance of rain, and predicted 40mph winds. Super. On the morning of the race, however, it wasn't the heavy pour I was expecting and the winds weren't that bad, but it was no day at the beach either. I pulled together all my gear including a towel, change of clothes, and extra shoes and socks for post-race. By the time I finished the hour drive to Denton there was a steady rain and heavy winds yet I still had the familiar excitement I always do on race day. Pulling into the parking lot and seeing other runners stretching, doing laps, and buzzing around in the rain was awesome and reminded me that runners are a wonderful kind of crazy.
The Denton 5K Details
I did a short lap around the start area and realized we'd be finishing into a strong headwind. By the time we lined up at the start however, the rain had died down to a drizzle and we were all hopeful it might let up for the entire race. The first mile was extremely pleasant and I almost second guessed my attire–I wore my compression tights (because they dry pretty quickly), a wicking tee under a long-sleeve wicking shirt, and a super lightweight rain jacket plus a running hat. I hit the first mile at 7:30 which was also at a clearing in the route which allowed a crosswind to drive pelting rain directly into our faces. It had started to pour. After a quarter mile we were on a tree-lined street again and relatively protected from the heavy rain. It was 15:12 when I got back to mile two and I was pleasantly surprised with my pace but I could also feel that I was pushing it pretty hard. Passing back through the clearing was a challenge and I was looking forward to rounding the corner and having the wind at my back; the wind was so strong I literally felt like it was pushing me faster than I go could go.
I passed a female runner that had been just in front of me most of the way and tried to stay comfortable at my faster than normal clip. The streets had filled with puddles and the last a half mile and turn to the finish was in driving rain with heavy wind. Race organizers were directing people to pass through the finish at a set of cones and collected the tear-off part of our bibs to determine the finish order. I almost passed a guy in front of me but I think when he saw a girl was on his heels he found his extra gear and sprinted across the line. I followed with a smile on my face and a 23:49 on my watch.
I grabbed my camera and huddled under a pop-up tent at the finish line to watch my friends come in. They all finished strong and it was cool to see everyone cross the line in a torrential downpour with the gratifying sense of accomplishment that goes along with finishing any race.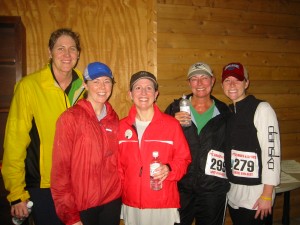 Runners gathered inside the Human Services building and waited for the awards. There were 140 runners in total that showed up which I thought was impressive given the weather. The group included a lot of Seashore Striders and it was neat to see that it truly was a community event and I was reminded of how much I enjoy small races. The crowd is manageable, everyone supports each other, and the atmosphere is relaxed and friendly. Plus, because it was a St. Patrick's themed run there were runners dressed for the occasion and it is always entertaining to see the spirit and costumes that runners put together. I think the Seashore Striders did a great job with the event, particularly given the weather.
My finish was an unexpected PR. The final time of 23:49 put me first in my age group (now 30-39), I was 15th overall, and had a 7:41 average pace. While it's encouraging to see that I was able to achieve race pace I am not going to assume I can keep that pace for double the distance in two weeks. You can trust that I will report back!