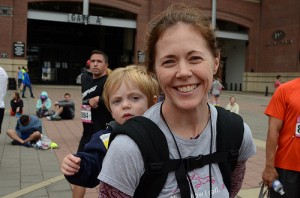 If you want a race with a fantastic after party, the Baltimore Running Festival does it right. Taking over parking lots at M&T Bank Stadium makes for a perfect post-race tailgate. An awesome band for live music, tons of food trucks and tents, moon bounce and other fun kid games, plenty of porta-pots (though not necessarily with TP!) and even rows of long tables where runners could pick crabs in true Maryland style–this plus more made up the finish area for 5k, 13.1 and 26.2 finishers. I was among the crowd in a form rare for me–as a spectator.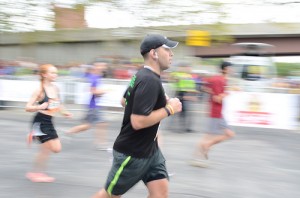 Since I withdrew from the Steamtown Marathon, I had loosely debated running the Baltimore half marathon until my senses came over me and I realized I wouldn't be quite ready for 13.1 miles. So the next best thing was to be there to cheer for friends running the half and full marathon. My husband, son and I scored VIP passes plus a parking pass so that we could be right at the finish line. After about eight tries navigating traffic and different street closures, we made it to the VIP parking area minutes before our friends were predicted to be crossing the finish. The runner tracking I'd signed up for gave me their paces and estimated finish time around halfway through the race but there wasn't anything beyond the halfway point so we waited in anticipation to see them cross the finish line.
Finish Line Emotions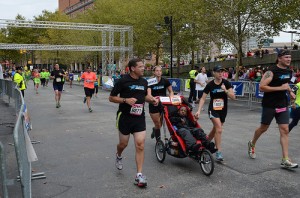 Watching the finish of a race might have been more emotional than if I had been running myself. I made it through a few cheers and 'whoops' before I started welling up and biting back tears. Runners are literally every shape, size, color, age, experience level and walk of life. It is so inspiring to see runners at the end of their race. Their faces show determination, hard work, relief, pain, pride, excitement, sweat and grit. There were a few teams of Athletes Serving Athletes that we got to see finish which is definitely an emotional moment; ASAs are runners who selflessly race to help other athletes complete a distance and cross the finish line when they can no longer run themselves.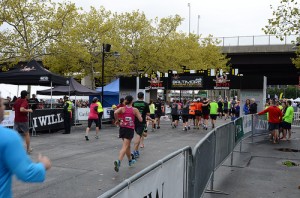 As I went through my emotional ups and downs cheering for total strangers and the two people we knew racing, I think I (almost) got over the fact that I wasn't racing myself. It felt rewarding enough to be among so many runners reaching their goal and hitting that amazing moment of crossing the finish line that I think I vicariously lived through them for that moment.