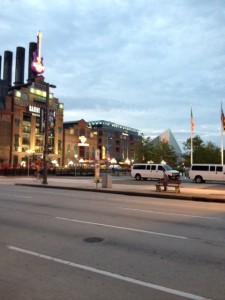 I've had this thought in my head for some time now: the race is the reward. I'm not sure too many people would argue this. While I genuinely do love training, the race is the payoff. I love everything about a race from the general camaraderie of runners to the contagious enthusiasm at the start line to the post-race satisfaction of having finished. But my recent results from the inaugural Charles Street 12-Miler in Baltimore have me on such a high that this post is now very timely.When I signed up for the 12-miler I had several motivations. One was that I would not be in town for the annual Annapolis 10-miler at the end of August which is one of my favorite races and I wanted (actually, 'needed' is the better term) an August race. I also needed a benchmark race a few weeks before my first fall marathon on September 14. The racing pot was sweetened by the fact that the Charles St 12 promised to be downhill which would be a perfect way to test out what it's like to race downhill, again in preparation for two fall marathons with significant descents.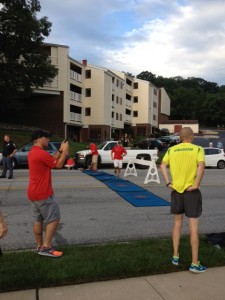 Race morning started out a bit humid but by the time I had parked in Baltimore and gotten on the race bus from the Power Plant Live! finish area to be routed north to the start in Towson, the humidity seemed to have broken and it was shaping up to be a perfect race morning. I was really impressed with the efficiency of the bus system and the fact that the Charm City race organizers had gotten coach buses rather than school buses. The start area was buzzing with runners including a big group from Athletes Serving Athletes which is an organization I hope to one day have the time to contribute to. The only true "complaint" I might have about this race and that I'm sure others will communicate is that there just weren't enough porta-pots at the start. That being said, if there's one thing I've learned over the years, it's to get to the start early so you don't have to wait in a crazy long line to go to the bathroom!
Downhill Racing
Promotions for the Charles St 12 definitely pushed its downhill-ness. Even at the start, the crowd was welcomed to this downhill race that would have a few "bumps in the road." Ummmm, bumps? He meant hills. Serious hills. My initial goal for this race was to hit a 7:45 average pace and to find a comfort zone with running miles in a row downhill. Turns out, the course–in my opinion–was not primarily downhill as advertised and I'm not sure there was a full mile that was strictly (or significantly) downhill. There were some good downhill stretches but plenty of challenging uphills and intermittent flats. All of this is ultimately fine with me but I would just caution runners planning on doing this race next year to do true hill training rather than focus on downhill only strength.
I started out fast, around a 7:30 pace. I had looked at the course map and elevation a dozen or so times pre-race but I still wasn't totally sure what to expect so I decided I'd take the fast pace and go with the flow. The second mile was even faster, around 7:05 and had some of the promised downhills in it. My downhill strategy was to not put on the breaks as I've discovered I'm apt to do. I focused on leaning forward a little over my hips and rather than use my arms for balance I continued to pump and maintain form. I was racing after all!
Over the next few miles I was very aware that my pace was under the intended 7:45 and I had a few women and men that I played cat and mouse with for a while. Among the group there were more than a few of us commenting on the mis-marketed downhill nature of the race. Nonetheless, there must have been enough of an elevation decline because I was relatively comfortable in my mid-seven range…for a while. Somewhere around mile 8 or 9 (I think), one of the policeman pointed to me and the woman behind me and said, "11 and 12 females." My reaction? "Wow!" And my next thought, "How far up is number 10? Can I catch her?" I couldn't actually see anyone in front of me at that point so I figured the 10th woman must be a ways ahead. Maybe a quarter mile after that though we had a short and steep descent and I saw a woman running with a Camelbak. I thought I had a good lead on the woman behind me and decided I could catch, and pass number 10.
I have NEVER raced like this before. I have never known my placement in the field and decided that I could have some sort of lead. For the first time ever I found myself truly racing against other runners rather than (or perhaps in addition to) myself. I dug deep, very deep. I passed number 10 and tried to focus on the miles that were left. I had no idea if the rest of the race would be downhill, uphill, flat. I was hovering around a 7:15-ish pace. At mile 10 the course pretty much flattened out and I could feel my pace slowing. I desperately wanted to cross as the 10th female. It was hard. The pace and the miles were catching up to me fast. I felt like I might throw up.
Coming up on mile 11 I heard feet behind me and did a quick look. It was a guy who I'd been in a pack with a few miles back. No problem. I heard another runner. Another quick head turn and I could see it was a woman I'd played cat and mouse with for many of the previous miles. She passed me and I wanted to stay on her heels but she looked fresh and she was fast. We had a half mile of running left along the Inner Harbor and up to Power Plant Live! and I had no idea what was left in my tank. I saw a red ponytail up in front of me and realized I was now in 12th place. I pushed and caught up with her and on the slightest incline I passed her. (Somehow I always seem to find an extra gear on uphills!)
A volunteer was yelling at us as to where to turn for the finish. I just wanted to be done; I wanted to finish hard but I couldn't actually see the finish. A few strides later I realized it was about 25 yards away and I think I said out loud, "oh shit, it's right there!" While there was no chance I could catch number 10 I was at least able to finish hard. I sprinted through the end, elated to know that I was the 11th female (still not sure how many total females there were).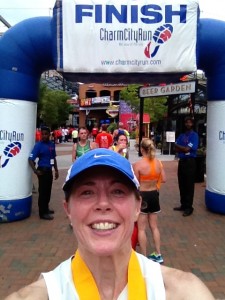 I went straight over to the number 10 woman and congratulated her on a great race. It was fun to talk with her and recap the race. She also agreed that "downhill" was not the best course description. I was relieved to hear that someone else thought it was actually a challenging course.
I took in the post-race music and food for a short bit and then made my way out of Baltimore to enjoy the day. Plus, I wanted to load up my Garmin data and make sure the race I had just ran really happened. Had I really been that fast?? I had.
Final stats: 1:28:21 finish time gave me a 7:20 average pace; 63rd runner overall out of 1585; and 5th in the 30-39 age group.