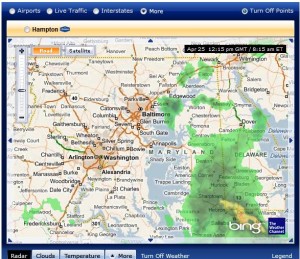 Weekends are perhaps one of the most integral parts of training. Saturday and Sunday are designated for long bike rides, long runs, and brick sessions. They are the pivotal point in any training week and are where time and mileage really add up. Up until week 9 of training I seem to have lucked out with weekend weather forecasts cooperating nicely with my training schedule. However, I have to admit to a minor moment of panic when I saw that rain was predicted for an entire weekend.
I've run in all sorts of weather. I have run through rain, snow, high winds, heat, and freezing temperatures. I know how to prepare for running in inclement weather and though it's not ideal it's something I know I can do and that for the most part, is nothing worse than uncomfortable. Riding in the rain, however, is entirely foreign to me. So when I saw an entire weekend of rain in the forecast I promptly rescheduled my 41 mile bike ride for Friday after work while the sun was still shining.
I was not prepared to voluntarily ride in the rain. During one triathlon it started raining during the bike and I was ok with that because I was racing and I would deal with whatever conditions existed. But to go out in the rain during training for a bike ride? I'm just not sure about that. Do other triathletes and cyclists ride in the rain? Drizzle I think would be manageable but biking in full-on rain doesn't seem to make sense to me. Like anything though, I'm sure there are ways to prepare and in time it can be manageable.
Inclement Weather Work-outs
On one hand, I believe that since you can't change the weather on race day you may as well deal with whatever weather exists during training. On the other hand, I think training is an opportunity to constantly improve and it's much easier to get faster, stronger, more comfortable, and more efficient during favorable weather conditions.
There is no doubt that running in the rain and biking in the rain are two different experiences but having the correct gear in either case is essential.  In my mind that means non-cotton socks, a water-resistant jacket, and a hat or riding glasses to help shield the eyes from potentially blinding rain. Unfortunately, wind typically accompanies rain and I have to imagine that on the bike wind will make things even more challenging and cause the rain to seem stronger than it is. If you have experience in biking in the rain please use the comments to share what it's like and how you handle it.
Once you have the right gear, biking in the rain requires a heightened sense of awareness and caution. To state the obvious, roads will be wet and stopping will require more time. Taking turns at a slower speed would seem logical. I also imagine that after riding in the rain your bike will need attention. I know that even after riding through puddles my gears and chain could use a wipe-down and I've read that lubing up is also necessary.
When heavy rain interferes with running it's easy enough to pop inside to the treadmill. Though logging long runs on a treadmill is typically less than desirable it's not out of the question. For some reason logging 2-3 hours on a stationary bike is just not appealing. It's also not the same. At least on a treadmill you can still practice running form but stationary bikes tend to have dramatically different set-ups than a road bike. Spin classes are certainly an option as is using an indoor trainer. But if there are some tried and true ways to ride in the rain I hope those with more experience will share their advice!
Post-script: The weekend forecast that set me into training panic never came to fruition but I'm sure there will be many more rain forecasts to deal with in the future.