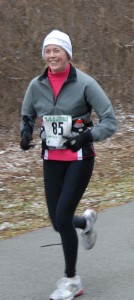 This morning as I was walking down the stairs sideways, slowly, holding on to the railing, and feeling each step in my knees and ankles I smiled knowing that for all this pain I would not change having just run my first marathon less than 24 hours ago.
There are still so many thoughts and emotions swirling in my head that I really don't know where to start with this post. I want to write about the marathon from start to finish, and perhaps I will in another post. From training to the pre-race meals and planning to the morning of preparation, stretching, pace and form while running, gear, and post-race plans, I learned a lot and discovered many more questions that I have about this whole experience that is running.
For now, though we'll just stick to the points closest at hand from running my first marathon.
The Weather
We got lucky with the weather. Early forecasts were calling first for 60% chance of rain in 37 degrees and the chance of rain slowly changed to 30%, then 10%, and by race morning, the rain had cleared, temps were in the low 30s and it was clear for the first 13 or so miles and then light snow started to fall which was actually pretty cool. Continue reading →