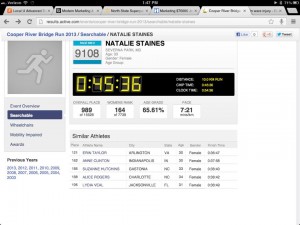 I went into this year's Cooper River Bridge Run with a strange combination of feeling cocky about the prospect of running fast and at the same time not feeling confident that I could run fast. In the two weeks I had to really train for speed I lost the opportunity due to being sick one week and not focused the other. I was hopeful that all the magic of race day would help me hit the 7:30 pace I was targeting. Not only did race day magic have an effect but so did a little 'tough love' coaching from my husband, friendly competition with my best friend and sheer determination. I pulled off a 7:20 pace for a 10K PR of 45:36!!
The Charm of Charleston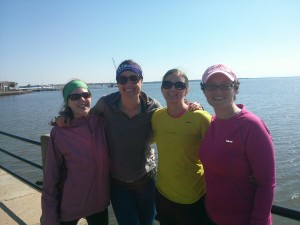 One of the best parts of the Bridge Run is that it's in Charleston, SC, my alma mater. Each year there is some sort of reunion with college friends and friends currently living in Charleston. The Bridge Run is about so much more than the 10K. It's about eating amazing food and drinking with friends (often a bit too much drinking). I feel the need to rattle off some great places to eat should you visit Charleston: Hom, Leaf, Blind Tiger, Taco Boy, Sweetwater Cafe, Venue Inn, Rarebit. And now, let me spend a minute on the drinking. I did some day drinking on Friday all the way until about 8pm so the fact that I woke up race morning definitely dehydrated is an interesting factor in that I ran so well. We typically get a beach house on Folly Beach which is the right thing to do. It's affordable, relaxing, a perfect home base and a spot to relax and be outside after Saturday's race.
 Race Recap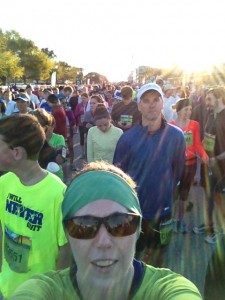 Because of staying on Folly Beach, the morning of the Bridge Run starts early. My husband dropped our crew of 5 off in Mt. Pleasant at 6:30am so we had 90 minutes to kill. My pilates instructor best friend turned fast and competitive runner and I stuck together putzing around. We went to the porta-pots I think about 6 times. We did laps around numerous parking lots and buildings. Finally I got antsy and wanted to be in my corral. My friend was in A and I was in C and starts were to be staggered by 3 minutes.
I had my iPhone tucked into my Gracie's Gear sports bra and a few minutes before our start heard it buzzing. My husband had texted me that he needed me to beat my friend by 5 minutes to win $100. What?! I texted back that 5 minutes was a big gap. And who did he bet anyway? Well, it was my other best friend back in corral E. Oy vey. He wrote back that it was all mental. He wanted me to do 7:45 the first mile and 10 seconds faster each mile after.
Soon after crossing the start line my pace read 6:50. Holy crap. I had no idea what I could maintain and I was willing to just stay fast for fear that I might totally bonk. I hovered around 7:15 and then the bridge came. It's not a dramatic incline but it lasts for about .5 miles (I think) and my pace dropped to 8:15. I felt determined to keep powering up and made pact with myself that I would push again on the downhill knowing the rest of the race was flat. I made up time going down and by the time I hit the 4 mile mark I was back to a 7:15 pace. I really couldn't believe it. I've never run that fast for that long. So I made a new pact with myself that I would just need to stay fast. I had only 2.2 miles to go and I didn't care how bad it might hurt or if I puked at the end. I even stopped thinking about competing with my friend and just focused on running my fastest 10K ever.
With about .5 miles to go, I heard my husband cheer from the sideline and I dug deep to find my extra gear not even sure if I had one at that point. The last .5 miles was definitely tough and I had something like a 6:15 pace for that last .2 miles, genuinely believing I might puke at the finish line.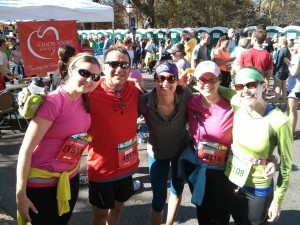 I finished elated. I was grinning ear to ear and could have done victory laps if there had been an easy way to keep running through a crowd of tens of thousands of people. Instead, I found my husband and best friends. We spent the rest of the day outside and the evening dancing. It was perfect.
New Training Mentality
And now I am back to being that strange combination of cocky and not quite confident all at once. I want to be faster but also consistent. I want to train for speed but need to maintain endurance. I'd love to see myself get to a 7:00/mile 10K pace and 6:30/mile 5K pace. But I need to find both the training plans and consistent confidence (and motivation) to make it happen. Or, I guess I just need my husband to make a friendly wager.
Anyone willing to bet?