My general goal of any year is to hit 1000 miles in the year, and when I took a peek to write my 2015 running year in review I was at 1,226.5 miles, not too shabby! I also had a period of sadly being locked out of my blog so I missed getting in some race recaps and various training insights and epiphanies. In addition to having some fast races to close out the year, perhaps the most significant moment of this year was my decision to hire a coach. We started Dec. 1 and the next six months of running are all about working Coach's plan. But before we look ahead, some running moments of this year.
Boston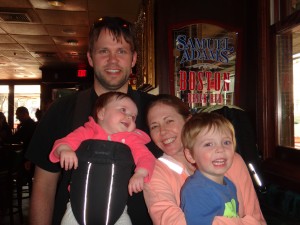 I was lucky to get to run the Boston Marathon; it took three posts just to try and capture the entire experience. I fully feel as though getting to Boston even once in my running life will have been satisfying and rewarding. The return to Boston is its own new mission. For starters, Boston is simply one of THE best well run events that it's hard to not want to do it again. Second, I want to earn my way back with a time much faster than my age group BQ requires. And last, Boston in and of itself inspires marathon greatness. Even if I BQ and choose not to run, I am excited to see what type of marathon PR I can achieve.
Zooma Pacing
For several years, I've had the opportunity to run as a pacer in the Zooma Annapolis half marathon. This year's race, like many others, was HOT. I was to pace the 1:50 group. And of all days to leave the Garmin at home, I arrived to the pacer meeting area watchless. Very, very luckily one of the other pacers happened to have on two watches and loaned me her Timex so I could at least watch our splits and overall time. I don't know the last time I ran without being able to monitor my exact pace but fortunately I know the Zooma course pretty well and have paced before. It was totally rewarding as always to be able to help runners meet and beat their goals. Knowing how much I rely on pacers in other races, I only hope I am giving back the same consistency as those two hour runners expect. We crossed in 1:50:24.
Susan G. Komen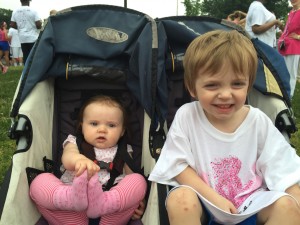 I've never been one to fundraise much for my races but this year the Susan G. Komen 5k in Washington, D.C. was a little different. I still didn't ask others to donate but the cause of running it was to honor my mother-in-law and way, way too many other friends and family who have gone through cancer. Our whole family participated and the goal was simply to have fun. We borrowed a double jogging stroller from neighbors and my three year-old son rode a bit but also hopped out for moments of his own running. He gleefully ran across the finish line and still talks about "his" race in Washington, D.C.
Via Marathon
As part of my mission to get back to Boston, I ran the Via Marathon in Lehigh Valley needing to hit a 3:40. I crossed in 3:39:55 fully realizing my major squeaker time would possibly not get me into Boston. It did not. Runners in my AG were a solid 2:30 faster than our 3:40 so there was no chance my 5 seconds was going to get me in. But, it notched another marathon on the belt.
MCM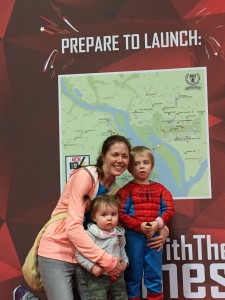 In 2011 I ran the Marine Corps Marathon a hair over 12 weeks pregnant with our son. At the time I felt it was a race I'd love to run every year. It's close to home, an absolutely gorgeous course, totally humbling, inspiring, and emotional. This year, registration included a lottery. My brother-in-law got in and it was going to be his first 26.2. I was fully prepared to hop in and pace him at certain spots. Then I decided I might well be able to run the whole thing at his pace and was fortunate to get my hands on a bib via my triathlon network. Despite a gigantic cluster at the start (i.e., 8 metal detectors at the Pentagon for about 35,000 people), the race was everything, and a little more, that I remembered from four years ago. I was personally having a grand old time just going along for the ride. It was not about me or my pace at all. I was there for moral support (which he needed due to some major ITBS issues around mile 16) and to just make sure we finished. And we did.
Short and Fast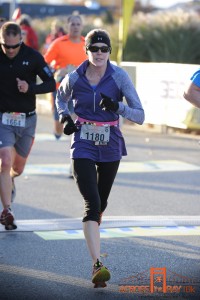 In October I did the Nike Women's Half Marathon in San Francisco. That race deserves its own post for both good and bad reasons, but it was one of my faster 13.1s. By the time the Chesapeake Bay Bridge 10k came around in November I was pushing to be faster at shorter distances. I had a great Bay Bridge run with an average 7:03 pace. That race prompted a conversation between me and my husband about coaching. By Dec. 1 I had signed on to Team All American with Coach Scott Fishman. My last two races of the year were a fast 5k and fast 5-miler. I'm excited about what's to come and the many ways that having a coach will change, and improve, my running. It's a pretty ideal way to head into 2016.
New year's running goals? I have lots of them and plan to crush them all. How about you?