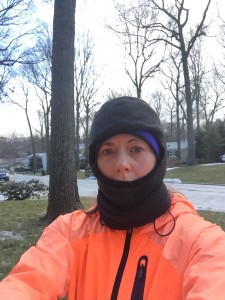 It takes a while to get used to running year round and to figure out all the various iterations of layering needed for different cold temperatures and winter elements. I follow plenty of athletes who run in much colder climates than Maryland so in general I'm not sure I have room to complain, or give advice for that matter. That said, my last long run was in 8 degrees with the wind chill factor. I've been running year round with the exception of days where it seems dangerous (i.e., icy routes) or when there's more rain than I'm willing to bear.
Mental Preparation
Whether you're planning to run in the freezing cold, extreme heat, or any significant distance, a good part of running is simply being prepared mentally. I spend a decent amount of time psyching myself up for different runs. I spend an obsessive amount of time checking my weather.com app. I look at it multiple times a day checking hourly for the next day and looking ahead to the 10 day forecast. If it's going to be rainy, or windy, or cold, or hot, or perfect, I like to know that well ahead of time. So when I was stalking the weather for an upcoming 1:20 easy run and saw the impending 20mph winds against a high of 20 degrees, I had a solid 5 days to prepare. I also had a 30-minute run the morning prior which ended up being in 14 degree early morning temps. That shorter run allowed me to prepare mentally as well as to test out my layers.
Timing is Everything
In general I am a "first thing in the morning" runner. Weekdays especially I run before both the sun and anyone in my house is up. If I don't, chances are the run won't happen. But weekend runs are a slightly different story, especially in the winter. In the winter, it's obviously still dark early which means my preferred long run trail is off limits until sunrise. In addition, It's colder in the morning. I have small kids who still nap so it typically works out to do a midday weekend run during their naptime when temps rise a bit. However, the obsessive weather checking can come in handy. When the forecast predicts increasing wind, rain, or snow as the day goes on, there's a good case to be made for getting the run over with early. On my 8 degree long run, I left at 8:30 a.m. Winds were around 15-20mph and it was relatively sunny. The forecast had showed increasing winds throughout the day and a chance of snow. Literally in the last mile, it was downright gusting and snow flurries were coming down full force. I was glad I only had to deal with one mile of that.
Layering Trial and Error
I've written a lot about gear. Regardless of temperature it takes a lot of trial and error to get running gear right. The amount of factors in what will be right for you are endless, and it's a combination of the gear itself as well as how your body performs in different conditions. I personally don't tend to sweat a ton unless it's insanely hot. I also know that if my head, hands, and feet are cold, I'm doomed. I'd also always rather have on too many layers than not enough. You can always tie things around your waist and tuck gloves in your pants. For the 8 degree run with wind, here's what I went out in:
Pearl Izumi running tights intended for 0 and below; they are fully lined and have wind breaking front material and are fleece on the back
Lulu Lemon base layer, wicking material (mine is a few seasons old but is basically this)
Under Armour Lightweight Jacket (mine is last season but this one is the same thing; it is an ideal outer layer because it's so light that when you just need to break the wind, deal with light rain or snow, or when you just need pockets, it does the trick)
SmartWool heavy running socks
Nike Thermo-Fit fleece lined hat (many, many seasons old and if it ever disappeared I'd be devastated; it's not cute but it is insanely perfect for all winter temps. Pretty similar to this which is reflective so maybe a tad more awesome.)
Thin Pear Izumi gloves underneath Nathan reflective running gloves; I bought the Nathan gloves a size too big unfortunately but they actually fit great with another pair underneath. I have horrible circulation in my fingertips so the double gloves are crucial on freezing runs.
Fleece balaclava
I ended up being properly dressed for that long run. Certainly I've had on one layer too many a few times and just a few times I've wished I had on more. None of that gear makes for a "cute" outfit but it sure is functional. And as much as it makes winter running doable, I really can't wait for spring!