I believe one of the first 5K races I ever did was freshman or sophomore year at college. It was probably the farthest I'd ever run and I'm positive I didn't train. After that first 5K I continued to run, added longer distances to my work-outs, and found myself signing up for 10Ks, 10-milers, and finally half and full marathons. Now after a nine year hiatus from 5K races I've done two in three weeks and am loving the 5k race!
OSMC 5K Fun Race
October 24 I ran the OSMC 5K race in Annapolis with some colleagues who have been interested in getting back into running and who wanted to do a 5K that supported a good cause. The host of the race, the Orthopedic and Sports Medicine Center, has put on their fun 5K around Halloween for 10 years and it is in support of Anne Arundel County Special Olympics. The race was small and family friendly and the number of runners in costume made it very entertaining. The route was through beautiful back streets in West Annapolis that took runners past gorgeous waterfront homes, included a couple rolling hills (surprisingly more hilly than I expected), and was covered in color by all the fall leaves on trees.
At the race start line there was the typical shuffle to get over the starting mats and then because of the small number of racers and the nice wide streets, things spread out quickly. My goal was to enjoy the run but also keep a fast pace. I was hoping to run somewhere between an 8:30 and 9-minute pace. With no mile markers on the road and having never run those streets before I had no sense of where I was on the course and therefore was not positive of how my pace goals were panning out. I knew I was clipping right along and was feeling good and as seems to be my unintentional trait, I crossed the finish line hard but not as hard as I could have. Needless to say, my finish time of 25:32 gave me an 8:14 pace with which I was thrilled.
World Run Day: Junior League of Annapolis Volunteers on the Run 5K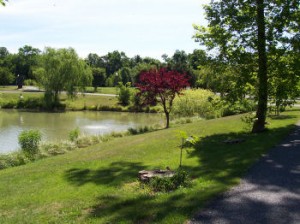 November 8, which happens to be World Run Day, was a fun 5K put on by the Junior League of Annapolis at Quiet Waters Park. The JLA is a gracious sponsor of Girls on the Run and because I am a GOTR coach I wanted to give my support to one of our sponsors by running. The other motivation to run this race was my husband. Though he would not (yet) call himself a runner, he has been running to stay in shape and train early for the Cooper River Bridge Run next March, a 10K tradition for us. He and I are extremely competitive and so when I asked if he'd like to do this 5K with me and he accepted I knew I needed to get as close to my 8-minute per mile goal as possible to beat him.
Leading up the 5K I had a work-out of mile repeats and broke 8 minutes twice, something I didn't realize I was capable of doing. Also leading up to the race we did our fair share of competitive banter. The morning of the race it was gorgeous and sunny and crisp. This was another family friendly run and it was great to see mothers and fathers on the start line with strollers, parents with their kids (including one of my GOTR runners and her mom!), casual runners, and competitive runners all ready to enjoy the wooded trails for the 5K. Because it wasn't a huge event I was comfortable starting near the front; I was in the second line of people.
When the volunteer said "go" all I did was look for my husband and make sure I was close behind him. We went out fast! When I passed the first mile my watch said 7:32–my fastest mile ever! I could see that there was going to be the slightest hill after that first mile and that was going to be my chance to pass my husband, which I did. My goal then was to maintain my fast pace and keep some distance between us. There was one other female runner ahead of me that I could see and she was cruising. I could feel that my pace was faster than I've ever maintained but not knowing the course I was hesitant to slow down or speed up. As we got closer to the finish I could hear spectators and picked up my pace just a hair. Rounding the final corner a volunteer said to me "you're almost there and you'll be under 25 minutes!" With that I sprinted!
My watch said 24:53 and though I was feeling elated, I learned, once again, that I could have gone faster earlier. I did indeed beat my husband and was excited to be at the finish to cheer on my GOTR runner. It was even better when she handed me a medal that said "2nd place" on it at class the next day! (I couldn't stay for the awards as Home Depot was calling our name for Sunday projects…) Granted, I think it is second in my age group but still a great accomplishment.
And having a fun and successful 5K under my belt six days before the Richmond Marathon is pretty darn encouraging.
What are your 5K stories? Feel free to share some of your best 5K moments!