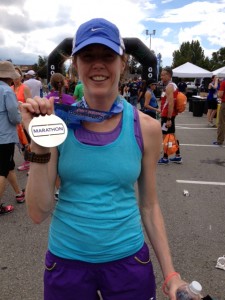 The Big Cottonwood Canyon Marathon in Salt Lake City was my first attempt to run a Boston qualifying race and my sixth marathon. I spent 13 weeks training for this race and had months of previous training and races under my belt. The big thing I was never sure I could properly train for was the significant amount of downhills at this race…18-20 miles of downhill to be exact with the final miles on a relatively flat grade. I also had never traveled this far for a race before so there were some additional prep and logistics to take into account. There were a lot of lessons learned at this race and while there are some things I would do differently, I think one sign of a good race is knowing that I would do it again. To quote a phrase of my old boss, "last line first." I was running this race with the hopes of qualifying for the 30-34 age group 2014 Boston Marathon. I came in 42 seconds shy of a BQ and finished in 3:35:42. Now for the details!
Racing Travel & Logistics
I didn't wrap my head around what I needed to do to travel from Baltimore to Salt Lake City for a race until pretty much the night before. I had been stalking the Salt Lake weather forecast and was most concerned with making sure I had the right layers. I would be flying out Friday, racing Saturday and flying home Sunday. Here's what I ended up packing:
Two packs of ShotBlock chews (only used one)
My Fuel Belt (which I didn't use at all and as you'll see in Lessons Learned, should have)
Compression socks for the plane and the race (I wore them on the plane out because I read an article about doing that; I can't say whether or not it made a difference and I wore them on the plane ride home too)
Hat and visor; there was a chance of rain and in that case I would opt for the hat
Sunglasses
Two pair of running socks
Running shoes, flip flops and flats for the plane
Running shorts (should've packed capris to be safe though shorts ended up being fine for the race), sleeveless running top, short sleeve running top, long sleeve UA cold gear top, rain jacket, long sleeve hoodie and sweat pants
Clothes for post-race and the flight home
Foam roller (I actually bought this post-race and carried it on the return flight; travel with one if you can!)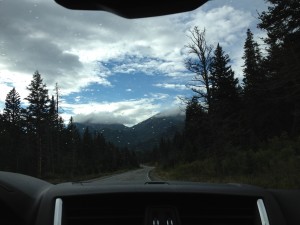 I think I was lucky to be flying east to west for this race as the time difference really worked in my favor. Going the opposite direction might not have been as easy. I got into Salt Lake City around 3pm on Friday and friends also running the race picked me up from the airport. We went straight to the expo and then to the grocery store which I'm glad we had time to do. I got some bananas, a Lara bar and some Kind bars. It was ideal to have bananas in my hotel for race morning and the day after.
The best part was having time to drive the course. Though we'd been studying the race course overview and elevation map for weeks, there was nothing like driving the course to put it in perspective. I was able to see that most of the downhill stretches seemed manageable though there were clearly a few steep descents. Perhaps one of the most common pieces of race advice is to preview the course when running in a new area and I wholeheartedly agree with this advice. It contributes greatly to the mental preparation required for running 26.2 miles.
Big Cottonwood Race Recap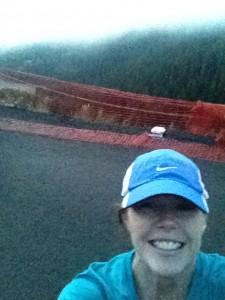 Race day was predicted to be mid-60's with 30% chance of showers. When we arrived at the buses to the starting line at 4:45 a.m. the skies were clear and temps were mild though we knew it would get cooler as we went up the mountain. We passed the half marathon start and a little further on the ascent we came to a halt. Long story short, a charter bus taking runners to the start cut a hairpin turn too short and got stuck blocking the road. There were about 6 buses behind it, including the one I was on, and after waiting for about 10-15 minutes we were advised to get off, walk up past the stuck bus and wait for other buses to come down from the start to get us the rest of the way. We were 3.1 miles from the start and the start time of 6:40 a.m. was 20 minutes away.
By the time all the runners were at the start, through the porta-pot lines and the buses had cleared out, the race start was delayed about 30 minutes which was fine. I ditched my sweatpants with the gear check and opted to run with my long sleeve shirt. I wish I'd had arm sleeves instead but alas, they were a post-race purchase.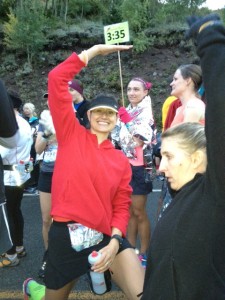 We (myself, Christine and her friend Lacy also attempting BQs) went straight to find the 3:35 pace group whose leader, Beth, was celebrating her 34th birthday and whose own marathon PR is 3:08. I wanted to start with the pace group because I really wasn't sure how to start out with a downhill race. As it turns out, everyone pretty much started the same–FAST!
It was literally impossible to run slower than a 7:30 pace for the first 8 miles of the course. I quickly noticed a sound I'd not heard at other marathons. It was the sound of runner's feet. Not that I've not heard feet before but this was the most intense, loud pounding of feet all hurdling down a mountain and echoing off the canyon. It was kind of cool.
Within the first five miles I was loving the downhill and was well ahead of the 3:35 pace group. In fact, I found myself within shot of the 3:25 pace group! And then, pain kicked in. About two weeks before the marathon, toward the end of a long run, a strange pain announced itself in my left hip and hamstring area. I all but panicked. I've been healthy and injury-free for years and this new pain came out of nowhere and it hurt. A lot. My last training run was pain-free so I had been hoping I could get through the race without the mysterious pain kicking in but it was not to be.
Struggling with Pain
By mile 8 the pain was almost unbearable. I was frustrated and really not sure what to do. So I kept running. I tried to stay on the flattest parts of the road and found myself constantly swerving from the middle to the far shoulder, just to be where it was flat. Soon, the 3:35 pace group passed me. I got more frustrated. The course was perfect. The weather was perfect. And if I'd been pain-free I could've been killing it; flying. Instead, when I stopped at a water stop, I walked through and could barely walk. (I've never walked through a water station, always have run through grabbing a cup on the fly.) I tried to focus on my form and focus on my pace. I knew that I'd been well under the 8:12 goal pace for the first miles and I was still hovering around an 8 minute pace on the downhill stretches.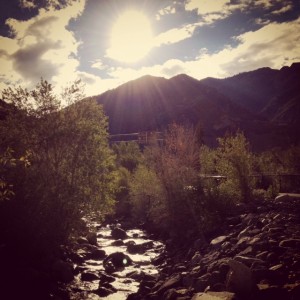 On the steeper descents I had to slow down more. My hip wanted to cave out from under me and I was willing it to hang in there for the rest of the race. I tried to distract myself a bit with the scenery. There were huge craggy rock faces on either side with rock climbers taking in a morning hike. There was a serene stream running along side the road as well.
We were out of the downhill canyon by mile 17 and had a few more miles of mostly downhill though it was through the city. Somehow and for some reason, as soon as we were out of the canyon, the pain literally left my hip and hamstring. And it transferred to my calves. It must've been my form on those long downhill stretches and maybe my hips, for which I did zero strengthening during training, just couldn't support my form.
My pace was totally inconsistent. I tried to refocus on form and ignore the pain in my calves. It was all mental. I thought about what had happened in the canyon. I'd taken 3 of my ShotBlock chews at mile 8. I stopped twice to go to the bathroom and took 3 more chews at mile 14 but with that batch I felt a little sick and stopped taking in anything but water.
The water stops were every two miles and this was something to look forward to but I would've been better off controlling my water intake in different intervals simply by wearing my fuel belt.
As I ran toward the final miles I was mentally wavering between whether or not I could hit the goal. I seemed to be on track with the 8:12 pace though it was fluctuating.
The Final Stretch
At mile 19 I had 65 minutes to run 7.2 miles and the 3:35 pace group was within site again. I managed to catch up to them and just wanted to keep pace for the last 10K. The race was all mental. I could only focus on running one mile at a time. Mile 20 to 21 was ok. Mile 22 was hard. Mile 23 was hard but I was still with the pace group. Mile 24 I wanted badly not to walk, but just to be done. I went back to my "one mile at a time" mentality and just wanted to get to 25. I thought I had enough time to run 10 minute miles for the last two miles so I let myself try and go slow and steady. Before the mile 26 mark, spectators were shouting about how close we were but I had no sense of where the finish line was. We rounded a corner and I could see it was indeed the home stretch but I couldn't see the finish chute. I wanted to dig deep but I didn't know how far I had left to run and I wasn't sure how much I had left in the tank. We turned into the high school lot and the chute was there. I dug deep. I was breathing hard. I know I was not sprinting like I have at the finish of other races, but I did finish strong.
My watch said 3:34:00. I started crying, felt totally crippled and nearly fell over. I could barely stand and two women offered me water. I started hyperventilating through my tears because I was so emotional and finally was able to take a deep breath and calm down. I had no idea if my watch was correct. I had stopped it during both pit stops and I had finished just behind the 3:35 pace group but had heard them saying at the last stretch that they were ahead of pace. All I wanted to know was if I'd done it. Did I BQ?
Lessons Learned
I'll keep this to a list in an effort to make it as helpful as possible for other runners:
Don't stop your watch!! I used to do this all the time because I thought if I weren't moving, my chip wasn't tracking time so I thought my watch shouldn't either. Turns out that is totally wrong and by stopping my watch I didn't know that I was coming in shy of my goal time.
If you've trained with a fuel belt there's not a lot of good reasons not to race with it. It's not really extra weight that will slow you down and though it doesn't look awesome in race photos, it is nice to have control over the fuel you're taking in.
Tuck a few squares of toilet paper somewhere. You never know when you might have to pop a squat or when the porta-pots will be out of TP.
For long runs, especially windy ones, try to carry chapstick too. I desperately wished I had my chapstick at the end of this race. It wasn't until hours later that I could use mine.
If gear check is available, use it. It's worth it to be warm up until the last minute.
Listen to your body but also know what you're capable of. I knew that I could run through this pain. I still don't believe it to be an injury so much as incredibly tight muscles. But it's not worth causing an injury just to finish a race.
Focus on your goal and remember that racing is mental. You have to stay positive, talk yourself through the negative moments (they will happen!) and remind yourself that you've trained for this race.
My Marathon PR
I did not qualify for Boston at the Big Cottonwood Canyon Marathon. But I did knock 10 minutes off my marathon PR and I'm damn proud of that. My training totally paid off and with the exception of those last 42 seconds I ran exactly the race I wanted to.
Go Big!