Recapping the Buffalo Marathon feels like almost a bigger undertaking than the 26.2 miles themselves. I've written plenty of race recaps yet this one has SO many factors to it, starting with the fact that it was the culmination of my first six months of working with a professional coach. Those six months of training were a mix of things and in my mind were all building me up to my best marathon performance yet. Spoiler alert: it was not my best and I'm ok with it.
The week leading up to race day was getting progressively warmer in Buffalo and on race morning it was an unseasonable 70-ish degrees and ended at was ultimately advertised on a post-race t-shirt as "86.2 degrees of determin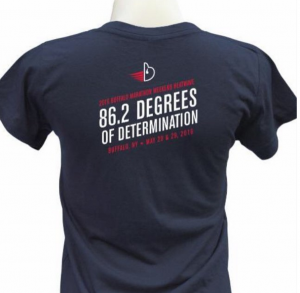 ation." So a solid 20 degrees warmer than optimal marathon temperatures. I had discussed this variable with my coach and race officials had provided plenty of pre-race communication to set expectations of the impact heat would have on performance. I was expecting around a 5 minute addition to my goal time of 3:30. Outside of prepping for the heat, my pace plan was to run the first half around 8:05s, starting even slower, and the second half at 7:55s. The real goal was to give this race every single thing I had in me.
Race Morning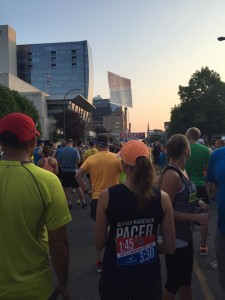 I combined this marathon with a family visit over Memorial Day Weekend. To maximize family time, I drove to Buffalo well after the Saturday expo had closed and opted for a 4 a.m. alarm to be the first person in line at the Sunday morning packet pick-up. Amazingly, this went according to plan including an ideal parking space in the $5 lot .25 miles from the finish line and convention center. Technically I was the second person in line, but anywho. Bib number in hand, there was an hour left before the 6:30 a.m. start. I took care of business, dropped my swag back in my car, and shuffled to the start line to hunt down the 3:30 pace group. I lined up right behind them feeling confident and excited. So excited that I attempted (and failed) at photo bombing fellow runners in the starting corrals.
The First Half
Long story short, I went out too fast. In theory, the first mile at 8:12 was fine but could've been significantly slower. Outside of that mile, I'm not sure I've had any race where I didn't start too fast. Despite six months of training with a pretty heavy focus on pacing, and multiple calls with coach, including a few days pre-race, I still could not control that easy feeling at the start of the race. I was very aware of it and in my head I was trying to take it easy but the splits tell a different story. The other couple goals were simply to stay as hydrated and cool as possible and follow my fueling/hydration plan (which I will come back to in another post). In almost every marathon the first half, maybe even the first 20 miles, seem to fly by. Even along an amazingly flat and fast course with pretty great scenery, by mile 9 I was already having to play the mental game. I was pep talking myself much earlier in this race than I ever have before, I think because it was so hot. Because Buffalo is a half and full field, there was also that brief moment at the split where mass amounts (in this case at least 2/3 of the field) of runners are pulling out their last "oomph" and heading into cheering crowds at the finish line while a much smaller group of us turned right to slug out 13.1 more miles.
The Second Half
Much of the Buffalo course was indeed very flat, coasting even, and somewhat shaded. In the second half I remember looking up and seeing people in a park and thinking "man it sucks to be those runners on that trail with no shade." And then I realized that shortly, that would be me. The sun was blazing and we had a stretch in front of us with no shade. I turned into the park and grabbed water from an aid station. Ahead of me I could see a runner on the ground with a crowd around him and another runner administering CPR; she was pumping his chest and within a few strides an ambulance screamed up behind me. A water table was quickly moved to make way and I passed runner 1940 as the ambulance approached. Out loud I just kept saying "oh no, oh no, oh no" and I choked back tears. This weighed on me…it still does. But I resolved that no matter what, I would be finishing the Buffalo marathon for runner #1940. I started thinking of some friends we lost in the recent past and I ran for them too. In my heart I just wanted to run for anyone who couldn't. In my mind, I just wanted to come as close to my various goal times as possible, stay cool, stay hydrated, and stay fueled.
Around the mile 20 mark I knew that my times were out of reach. It was that blurry stage of the race where I kept trying to do math and calculate what pace I would need to hit various finish times. (I'm not good at math when I'm not in marathon mode!) I wasn't feeling negative but just done. It was really my legs. Endurance-wise I felt fine and I was definitely fueled. I'd had ice in my hat, cold washcloths around my neck, I don't think my form was horrendous–but my legs were heavy and dragging. I practiced body scans and "noting" sensations, including toe cramps which really just pissed me off more than anything. All I really wanted was to see if I could find anything, anything at all, left in the tank to finish strong. I literally saved myself for the last mile and as I started to pick it up I thought I'd burn out before the last .2. I dabbled between second and third gear for the last half mile and had barely enough to "sprint" the last few yards across the finish line.
The Goals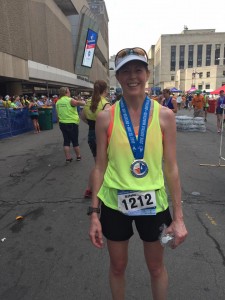 I picked Buffalo very intentionally because of its course and its reviews as a top Boston qualifying race. I had a few tiered goals. Because of my coach, and confidence in my training, the real goal, the one I really, really wanted was a 3:30 finish. I knew due to the heat I might have to let that go so I reset my intentions to beat my 3:35 PR from Big Cottonwood. After that, the next goal was to better my 3:39:55 squeaker time from the Via Marathon to something that would actually get me into Boston 2017. Ultimately I ran a 3:46:20. At the finish line in Buffalo there is a bell. Runners who PR are to ring it once and twice for a BQ.
I looked at it and smiled. Next time.