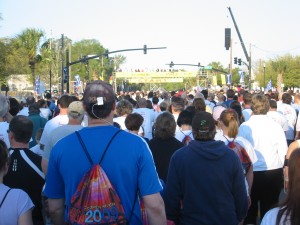 The Cooper River Bridge Run in Charleston, South Carolina, is by far one of my most favorite events. It's not just the 10K run that I love, but every aspect of an event that the city embraces and that becomes a complete experience for anyone participating, watching, or just living in Charleston. I'm a College of Charleston alumni and for some reason I didn't do the race all four years of undergrad, but I did get started during junior year. Once I graduated, the Bridge Run was the perfect excuse to visit Charleston and my first year returning for the race I brought my now husband with me where we rendezvoused with my best friend for the weekend.
It was then that the Bridge Run became a tradition for us, just like it has for so many of the other 40,000 runners. Registration sells out quickly so we make a point to sign up as early as our schedules allow. Like many events (though not many road races that I've done), the Bridge Run follows up with you once you've registered with regular email blasts giving training advice, information about travel, updates on the city, reminders for race day, and all the while builds the hype for a spectacular running event. 
This year the Bridge Run for me was part of a whirlwind road trip visiting a new client, friends, and attending my best friend's med school senior banquet the night before the run. We knew we were asking a lot of our bodies by staying up late Friday night and then getting up at 5a.m. Saturday morning to make the almost 2 hour drive from Columbia into Charleston in time for the start. All the while I was convinced I would actually be doing a Bridge Walk due to the pain I'd been experiencing with my IT band since my marathon. I'd been stretching, strengthening, and foam rolling and finally ran for 20 minutes for two consecutive days before the run but I had no way of knowing if I could complete a 10K pain free.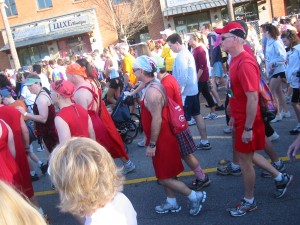 Start time for the race was 8a.m. and by the time we parked and were hoofing it to the start area in Mt. Pleasant we had about 2 minutes to spare. The Bridge Run organizes the start by color which matches your predicted finish time on your bib. Because of our late arrival there was no way we were going to weave our way through the crowd to our designated area so we started at the back of the pack and it took us 19 minutes to even cross the start line. At any other race this might be frustrating, but 40,000 people provide quite a spectacle and it's entertaining to see the costumes people choose to run in, overhear conversations of other runners, and to get a sense of the experience the Bridge run provides for others. Plus, it's a yearly reunion for me and my best friend so the more time we have to chat, the happier we are!
We had agreed early on we'd take it slow and steady with the goal of keeping 10-minute miles. When I first signed up for the Bridge Run I figured I'd still be on a high mileage schedule post-marathon and my original goal for the 10K was to run it with 8-minute miles which was just not meant to be. We zig zagged through the packs of people through Mt. Pleasant and hit our slowest jogging point at the bottle neck that always occurs as you approach the bridge. The only hill in the race is the one steady climb up the bridge and maybe it was because of our comfortable pace or maybe my previous training was paying off or maybe I was just so thrilled to be running without pain that the hill was a piece of cake. Even though it felt easy for us, my friend and I are cheerleaders and we love to encourage runners around us, give them a spirit boost, and shout out with energy as we climb the hill.
The new Cooper River Bridge is a phenomenal piece of architecture and the vantage point from the top of it is incredible. The day of the run happened to be sunny, crisp, and clear with just enough breeze to keep us cool and at the top of the bridge I was grinning ear to ear loving that I was running, loving that everyone around me was running, and loving this tradition in my life. What is your tradition? What is the thing that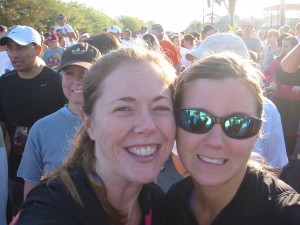 brings the biggest smile to your face?
We crossed the bridge in high spirits, cruised through downtown Charleston where it never ceases to amaze me how much can change in a year, and sped through the finish line happy to have run the entire 10K together.