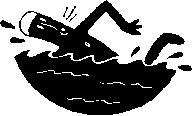 A couple years ago my husband and I went to watch his sister and her fiance and some other friends finish the first triathlon in Annapolis. We cheered her on through the finish line at Navy Stadium and I remember clearly being in awe of the hundreds of people who had just done three sports in a row! My sister-in-law and her fiance have competed in a number of triathlons and I feel fortunate that I am continuously meeting and connecting with other triathletes as their multi-sport talents are ever impressive.
In getting to know triathletes, however, I still always positioned myself as a runner forever and ever. No need to also be a biker and a swimmer. But then I took a break from running and started spinning, albeit not the same as road biking, but certainly a good introduction to the work-out. And then a friend of mine signed up for a triathlon in July and we got to talking about swimming. Next thing I knew, I was at the pool trying for a half mile swim with her.
All of a sudden, I have my own first sprint triathlon on my calendar. I feel as though training for it will provide a good balance to running but I'm just also curious how I'll do. This isn't like the sporadic adventure race I thought I was going to do and then had to bail on. The triathlon I'm going for is not until August, so I have a legitimate three months to train and no schedule conflicts. No excuses. I also get to compete against my brother-in-law.
So here I am with questions again. I am absolutely a beginner triathlete. I have set my own loose training schedule just to get started, but I am on the hunt for the perfect beginner training schedule that will also fit with my life schedule (can that possibly exist??). In addition to the training questions and all the unknowns I'm sure I'll discover when it comes to biking and swimming, my other main questions seem to revolve around the gear and transitions. Some of them are:
Should I wear a two-piece athletic swimsuit in lieu of a sports bra later?
Since I'll be using a swim cap the hair will go back in some sort of bun but I doubt that will last for the bike and run; will I have a chance to get my hair into a ponytail?
Is there time to slab on some sunscreen post-swim?
I'm not going to be using a fancy bike with clip-in pedals so is it ok to use my running shoes as my biking shoes?
What else should I be asking?
I don't want to overthink this. People do triathlons all the time so surely there are some tried and true methods for making it all go smoothly. As always, your input is welcomed and I look forward to learning from your experiences!