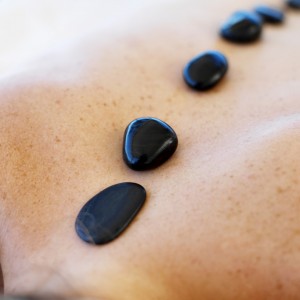 There are several names that came to mind for this post: "That's the Spot!" "Ouch!" "Digging Deep," "Seven," and plenty of others, some of which sounded totally inappropriate and others that could be misleading. So as not to leave you wondering what all these possible post names relate to, they are tied to the deep tissue sports massage I had over the weekend.
I have had one other true massage in my life and it was the most amazing, relaxing, comforting, soothing experience ever. My sports massage was the absolute opposite. After talking to some personal trainers and reading plenty of articles and forum posts about various ways to "treat" IT band pain, I was convinced that I needed to see a massage therapist. It made sense to me that if the masseuse could not find anything wrong with the muscles in my leg then I would have a much larger problem at hand. So I dug out a gift card waiting to be used and made an appointment for a 60-minute deep tissue sports massage at a local spa and salon.
I was shown into a cozy room with candles lit, calming melodic music playing, and I snuggled under wonderfully heated sheets thinking how nice it would be to doze off while the massage therapist fixed all my IT band problems. David came in and we talked about my running, the marathon, the pain I'd been feeling and he explained how he would use deep tissue techniques along with ice and heat to work on the muscles. No sooner did I shut my eyes then to have them fly back open in shock and surprise as he went to work on my leg.
Working on the Knots
For the next hour there was no sleeping for me, no soothing, comforting, pleasant massage experience. Not even close. At one point David told me he did not want to see my face looking "that way" any more. I guess I didn't realize how badly I'd been cringing as he worked on the massive and plentiful knots surrounding the IT band on my left leg. He said that on a scale of 1 to 10 I should not be letting him go any deeper than a 7 with the deep tissue massaging and once he said that I was able to keep my face "normal" as I called out "seven" rather often.
I was truly amazed at the number of knotted muscles he found on my leg. I have been using a foam roller for several weeks and recently thought it stopped working. It turns out I was just not focusing on the right muscles any more. The knot that was most sensitive is in the exact area where I feel the pangs of pain kick in when I try to run more than a mile. The knots surrounding it probably don't help but they aren't as sensitive as the mother knot. The masseuse used many techniques to work on these knots. He used a combination of ice and heat and there is no question that I will gladly accept a hot stone massage any time! I thought the ice portion burned which I was told was bad since it was ice being applied to my leg. David used his hands, elbow, forearm, and his whole body weight to dig, pull, push, lengthen, stretch, and work the muscles in my leg.
He kept asking me to relax and to release the muscles in my leg. I had no idea that I was flexing them and apologized for not being able to relax. This is a common problem for me. I lost count of the number of times he had to shake my leg out to try to loosen the muscles. We determined that as a recipient of massage therapy I had failed. I asked if I could walk away with at least a "B," but he could only give me a "D" as far as grades go. Between my inability to relax and the intensity of the knots in my legs, there was no way I was walking out of the room with flying colors.
The great news is that the root of my problem is a bunch of tight muscles. I just have to keep working on them, keep stretching, and continue to strengthen those leg muscles, and running should be back in my future in no time. We discussed the importance of  getting oxygen to the muscles by contracting and releasing them (whether through self-massage, foam rolling, or exercise), getting more potassium into my system (hello bananas!), and staying well hydrated to keep the muscles nourished.
People use the phrase "good pain" to describe massages, stretches, and that feeling of having pushed yourself a little past your threshold. This massage was "good" in that I learned the source of my pain, but by all means it was not "good pain." It was just pure pain and I have the bruises to prove it.