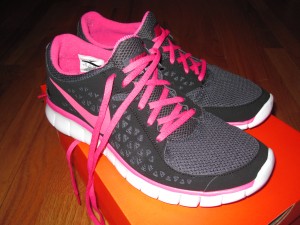 I have said before that running is not a beauty contest. I think I have also posted along the way that somehow, despite the fact that I am not a 'pink' person (I trend toward purple, green, and earth tones) the bulk of my work-out gear and accessories seems to end up being pink. All my pink stuff is either what's available, what's in my size, or what was in the gift box. So when my husband saw my new hot pink and black Nike Frees and asked "what are those ugly shoes?" I responded that they are what will make me fast.
The time had come for a new pair of running shoes. I took both previous pairs of my Nike Zooms to my new favorite running store to see if the experts agreed it was time for a new pair. It was pretty unanimous that it is time to retire my daily shoes to be the alternates. The last time I had to go shoe shopping I was dead set on trying something new. And at the store I tried every new shoe I could. I tried on half a dozen different shoes in my size and ran around the parking lot trying to decide if they were a fit. Either the arch support was funky, the tongue felt weird, the ankles were too high, too low–all other shoes lead me back to the Nike Zooms.
So when I went into Charm City Run, my only expectation was to confirm that I needed new shoes, buy a size 10 and be on with my day. And I like that. There is some comfort in knowing that a size 10 Nike Zoom will always work for me; they're old faithfuls.
A Good Running Store
I really want to talk about the new shoes but need to digress for a minute. When I walked in, one of the store  staff immediately recognized me. I don't go in often and it had probably been a few weeks (a month or more maybe?) since my last visit–which was for cold weather running socks–but he smiled and acknowledged that I'd been in before. Nice. We did the unanimous head shaking that yes, I needed new shoes, and while I waited to see if they had my Zoom size I browsed. I was found investigating a pair of Nike Frees and after being told my Zoom size wasn't in we started chatting about the Frees. Next thing I know I'm trying on a pair and in about 30 seconds, 'sold!' I'm not sure if it was the absolute, literal freedom I felt in the shoes, or if there is something about a good running store that compelled me to buy.
It's pretty simple at Charm City. The staff are runners, they're nice, they smile, they remember you, you can breathe when walking around the store, its not pretentious, you can easily browse and not buy, it's good. And they happily ordered the Nike Zooms for me in my size.
Nike Free Freedom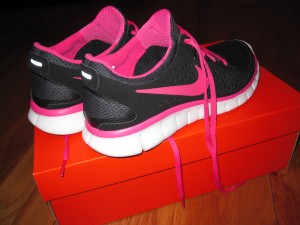 It's no accident these shoes are called 'Free.' I'm somewhat of a skeptic of barefoot running and it didn't immediately occur to me that the intention of the Nike Free is to get the runner as close to barefoot running, without being barefoot, as possible. When I stepped into the shoe I first noticed how light it was and the next thing I noticed was that the tongue of the shoe is all part of the design. If there is one thing that can ruin a run it is when the tongue slips around, or worse, digs in because your shoes are tied too tight. The Nike Free design eliminates both of those problems. Brilliant!
The other immediate aspect to the Free that I liked was that despite being so, well, freeing, it still has a legitimate sole. I didn't feel like I would be pounding the pavement with this shoe. And as one of the Charm City Run staff explained, even though there is cushioning throughout, the sole is designed to support a midsole-to-toe strike rather than a heel-toe strike. It's the ideal shoe for hill training. I also think it will be the perfect shoe for speedwork and races. I do not see it being my every run shoe…but that's ok because the Nike Zoom is.
Running for me is not a chore, it's not something I have to check off my list; I enjoy it. But the night I came home with the Nike Frees I was downright giddy with excitement to go running the next day.