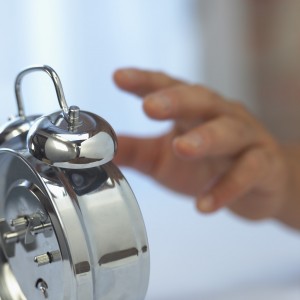 I recently wrote about the traveling I'd be doing and my fear of not being able to keep up with my training schedule for the mere three days I'd be out of town. I scoped out the hotel's fitness room and mapped a run as well. Fortunately, my roommate and friend also at the show is a runner as well and was equally gung-ho about getting up and running on the first day of the boat show.
We set her travel alarm clock, my cell phone alarm clock, and I picked out a great radio station to wake up to on the room's alarm as our last resort. You know how you wake up every hour before a flight paranoid you might sleep in and miss the flight all together? I did that with the running alarms. I was so worried that we'd sleep through them that I was up essentially all night. By the time the last alarm went off, all I could do was hit snooze.
In fact, I made the executive decision that I would continue to hit snooze until it was time to get in the shower rather than get up and run. I turned off the radio four times. Each time I hit snooze I was probably awake enough to have just put on my running shoes but the rest of my body was telling me to get some sleep before spending 13 hours on my feet talking boats. In the end, it was the right decision. Sometimes sleep is just more important. I don't feel guilty about not having run that first morning, but I am grappling with the bigger picture of how to manage training while traveling, but that thought process is for another post.
It turns out having that rest day after the first day of the boat show made the second day of getting up and working out that much more rewarding. The alarm went off without a hitch and in no time, the shoes were on, and we were on our way to the hotel's treadmills for an easy five miles.
I find this all to be a lesson in listening to your body. Take the time to tune in and your body will thank you.