Twitter has been, and continues to be, an amazing resource for me in both my personal and professional endeavors. On a daily basis I connect with new people on twitter who are informative, inspiring, entertaining, and motivational, and who share their passions, resources, ideas, challenges, and solutions with their followers. In the health, running, and fitness facets of my life this has been incredibly helpful as I have had many of my own questions answered by others on Twitter and have been able to constantly find information of interest to me as well as share my own stories and experiences with like-minded followers.
One of the first people I connected with on Twitter is Lynda Lippin, a Pilates instructor in the Caribbean. After a while of tweeting back and forth and learning various Pilates tips from her, I decided to interview her for this blog and asked if she'd be willing to discuss the topic of Pilates for runners to which she enthusiastically agreed. Following is the interview which I found insightful and helpful and hope you will too.
An Interview with Pilates Instructor Lynda Lippin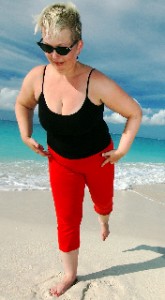 What is your background and teaching style?
I have been teaching Pilates for 20 years on all levels from basic mat to post spinal cord injury, to athletes, teens, mothers, celebrities, and other Pilates teachers. My academic background is in writing and philosophy, and I maintain that cerebral connection through my writing in books, blogs, social media sites, and magazines. I am a certified Pilates Teacher Trainer, Personal Trainer, and Reiki Master, so I have both a very western workout approach as well as a more eastern energetic healing approach.  I believe that fitness should help us function in our everyday lives so we can do whatever it is we enjoy without worrying about pain or injury. I currently teach Pilates & Fitness in the Caribbean, at the exclusive COMO Shambhala Spa at Parrot Cay, where "Strength Without Struggle" is my mantra!
Can you provide a brief description of how and why Pilates helps runners?
Running is a high impact activity that puts great stress on the lower back and lower joints. Any imbalance in the muscular usage of the legs and hips can cause pain and injury to a runner, especially the knee and hip. Runners tend to be quite strong in their calf muscles, quadriceps and hip flexors, with tight IT Bands as a result of the impact. Pilates helps to balance things out in the legs  by strengthening the hamstrings, inner thighs, and glutes to take pressure off the front and side of the leg, leading to better alignment and less chance of injury.  Plus the pelvic, ab, and back strengthening help to maintain better stability and alignment through the entire body while running.
Knowing that it's critical to have a strong core, back, hips, and pelvic muscles, what are the best Pilates moves runners can use to strengthen these muscles?

Bridging is a great one, especially if you make sure to keep the knee aligned with the hip and ankle throughout the exercise.  Using a small ball between the knees can help here to keep the inner thighs active. Swimming strengthens the back extensors, the hips/glutes, hamstrings, and abs. It is an amazing exercise! Side kicks are very difficult as balancing in side lying and trying to hold your center together while you move your leg(s) is quite a challenge for the nervous system. That said, you get a full range of hip flexion and extension which makes it useful for running. The full Roll-up, while a flexion exercise, serves to elongate the spine while working sequentially through the abdominals. Done well this is a perfect abdominal exercise.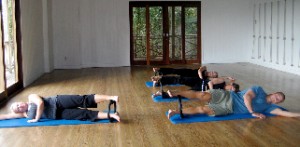 Is there any one Pilates movement that works most of the above mentioned muscles, if not all?
The great thing about Pilates exercises is that they all work many muscles at once, some to stabilize and some to move. Of the ones I mentioned, swimming is probably the most useful for runners, especially since it is in torso extension.
How often would you suggest a runner do Pilates in conjunction with regular training (assume ½ marathon training)?
Two to three times a week for 30-60 minutes would be best, but even once a week added into a training routine will work, since people tend to apply what they learn in Pilates sessions to how they move outside in the world.
Is there any one, or several, pilates moves that might be an ideal stretch for a runner rather than a strength move?
Realistically most Pilates exercises involve both stretch and strength.  If your hamstrings are not as strong as your quads, then any hamstring intensive exercise should also be a quad stretch and vice versa. Generally I think runners tend to focus too much on stretching their hamstrings and not enough on stretching the quads, hip flexors, and IT Bands. The foam roller, while painful at times, is a great way to release these areas.
Should Pilates be done before or after a run?
If it's on the same day, do Pilates after running so that you are warm and more supple going in. You can use the foam roller before or after (or both!).
Any other essential Pilates moves you would recommend to runners?
The 100 and the Abdominal Series (single leg stretch, double leg stretch, scissor, double leg lower/lift, and criss-cross) for breathing and abdominal strength.
Thank you Lynda for the information; I hope to meet one day down in the paradise of Parrot Cay! Feel free to connect with me as well as Lynda on Twitter.