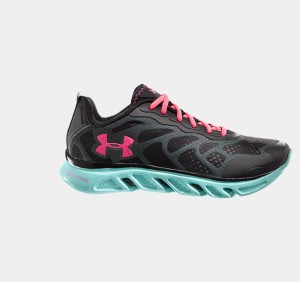 I'm coming up to the mileage and wear mark where I need to replace my running shoes. I typically alternate between super lightweight trainers for 3-6 mile runs and then my 'standard' running shoe for longer distances and races. If you've been reading this blog for a while, you know I'm a Nike girl with a pair of Nike Frees and Zoom Vomeros. I don't feel like I have to be a Nike girl but I've just not found another perfect shoe. So when I had the chance to try out a pair of Under Armour's Spine Venom shoes it seemed the ideal way to test out whether or not another brand is for me. (Disclaimer: UA did not give me these shoes to test; they were a friend of mine's who felt they weren't for her.) I had actually been checking out UA shoes at the store and have been following their evolution. I distinctly recall the first pair that came out and being tempted to try them but my Fleet Feet store owner gave the honest assessment that they weren't quite "there" yet for running shoes. But that was years ago and UA shoes seem to have come a long way. So I laced up for a 3 mile test run.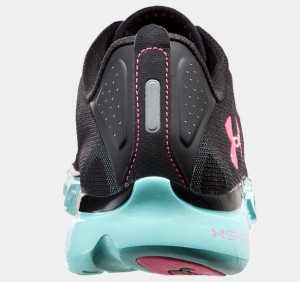 What I like about the Spines is the snug but breathable mesh overlay. And they are true to their lightweight intention. But as soon as I stood up and walked outside I felt like they were clunky on my feet. Intentionally designed to be sturdy, according to the Spine shoe description, I suppose I would agree that they are study but they also felt very stiff.
Getting into a stride for the first mile I started to think they weren't so bad. I had also been told they were designed for long distances so I was trying to decide how they'd feel for a 10 mile run or longer. Midway through mile two I was convinced that three miles would be plenty in these shoes. I had just started to think they might be the ideal tri shoe because of the mesh overlay and I was wondering if they would be comfortable without socks. (My first tri of the year, and in over a year, is June 30 so this is top of mind!) Alas, they will not be the ideal tri shoe either.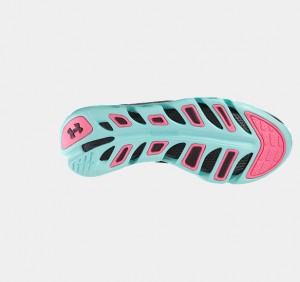 I tend to have a bit of an unstable footfall when I run (I think, hard to evaluate your run while you're running) and I do think the framework of this shoe gave me a little bit more stability around my ankle and foot strike but the stiffness of the shoe also made my footfall feel unnatural. Oddly, I noticed this feeling more walking than while running.
Post-run I watched the Spine technology video and while I understand the mission behind this particular shoe and am impressed by the design and technology behind it, it will not be replacing my Nikes.