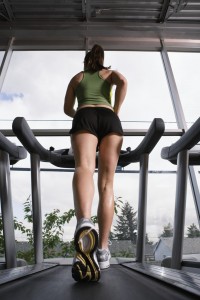 Tomorrow I have a flight at the crack of dawn down to Miami for a boat show. In my previous career I traveled often for work to boat shows across the country and would be gone anywhere from five to 10 days which is plenty long enough to interrupt exercise routines. My best friend who I worked with and I always packed our work-out clothes in the hopes that we would actually use them and there were a few rare times that this actually happened. During those trips, I was not quite as focused as I am now on training so maybe a more dedicated mindset would have made a difference in my motivation to stick with a work-out routine while traveling.
I will only be in Miami for 3 days but if I'm to keep with my training schedule only one of those can be an off day. I'm mentally preparing myself to get up earlier than normal so I can hit the hotel's treadmill before the boat show madness begins. (I would prefer to be visualizing myself running on the beach, but this will not be an option due to the hotel's location, so treadmill it is.) Boat shows, in and of themselves, are a work-out so I am fully prepared to be exhausted even in my short time there. The plan will be to get up by 5:30 a.m., quick 3-5 mile run, quick shower, and off to the show for a good 12 hours or so on my feet, meeting and greeting, talking boats, meeting boaters, brainstorming with editors, and touring the show to scope out what's new in the marine industry. I can admit I'm nervous about maintaining this schedule but I'm putting it out there for the world to see so you can hold me accountable. I'll let you know how it goes.
Surely I am not the only runner out there who worries about keeping up with training when not at home. Runners always comment that one of the best things about the sport is that you can do it wherever you go; just pack your shoes and you're off! Running for me is all part of a routine that starts when I wake up and leads into when I have my coffee and influences what I eat (ideally healthy choices with fiber and protein, but everyone has their weak spots). Being away from home challenges that routine drastically and adjusting can be tough. If you're a traveling runner, how do you stay motivated? What is your trick to keeping on schedule away from home?