Racing locally, in my opinion is one of the best ways to race. You can sleep in your own bed, you know the tricks to getting around traffic and good parking, you likely know the route of the race and there is the general pride that comes with seeing athletes ready to run in your hometown. This year, the Zooma Half Marathon & 10k was scheduled to be in Annapolis on June 5. I love the half marathon distance and I love running in Annapolis. But this would be my third weekend in a row of racing and to be honest, the Zooma registration cost is a little steep for my purse strings so I wasn't sure if I'd sign up to run. But then, an email came out from the Annapolis Triathlon Club calling for volunteer pacers for the Zooma Half. Sold!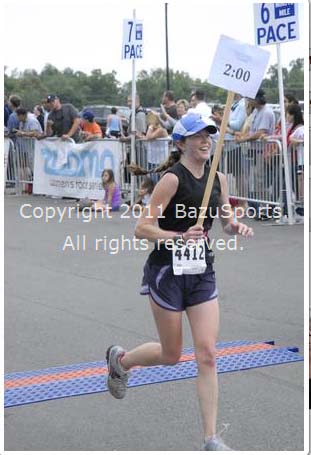 I immediately wrote back offering to volunteer and was given my choice of pace time–I think the fastest was a 1:40 pace building up to I believe 2:10 or 2:20. I was tempted to grab the 1:50 pace group knowing it would require me to run hard but also achieve a 13.1 PR. Instead, I erred on the side of what I knew I could do and opted to pace the two-hour group. Having followed pace groups in other races but never having run as a pacer myself,  I began to stress over the details of how to confidently accomplish the two hour finish. I knew that a two hour half marathon would require about a 9:10 pace but I also knew the course would be hilly, have wide open spaces where the sun could blaze down and it ends with a slight incline at the finish. Leading up to race day I made sure my own runs were done between an 8:30-8:40 pace so that I would be able to slow it down for pacing.
My race day strategy was to vary between a 9:00 and 9:20 pace hoping to average out around 9:10. A few days before the race, pacers were informed we'd be carrying a sign with the pace time on it. This gave me a bit of anxiety not knowing what kind of sign it would be but I reassured myself that if I could run with a dog leash I could run with a sign. I was grateful to learn on race day that the sign was quite light and not nearly as cumbersome as I thought it'd be. (Though plenty of runners passed me with the comment, "I can't believe you have to carry that the whole way!")
The night before the Zooma Half was probably one of my more nervous pre-race evenings. I wanted so badly to nail that two hour mark and was beginning to fear that I might let runners down. This would be the first half marathon for many women on the start line and I wanted to help them reach their goal.
Pacing, Talking, Encouraging, Enjoying
On race morning I lined up at the start near the 9:00 minute pace sign carrying my "2:00" finish sign. I made small talk with runners around me asking about their race experience. Indeed, many were here to run their first half marathon. Others I learned, had the goal to run a sub-2 hour race. Women around me stated they would be following me and some gave me the heads up that they would like pep talks and stories throughout to keep them motivated.
According to my own strategy I maintained a 9:00/mile pace for the first 4 miles knowing I would want to slow it down significantly on the hills between miles 5-10. From the start there were three women with me who had their sights set on the two hour finish and I was happy to guide them along. Each mile seemed to mark the addition of a runner to the pack and here and there a few would change their pace leaving the group. I talked to anyone near me, encouraged runners who need the "umph" and told stories of work, family, dogs, travel, triathlons, running and training to pass the miles for those who were with me.
A couple sections of the course included 'out and backs' so we passed runners in either direction and I found myself cheering on nearly everyone who passed. It was especially fun to see the other pacers from the Tri Club carrying their signs and we hollered encouragement at each other.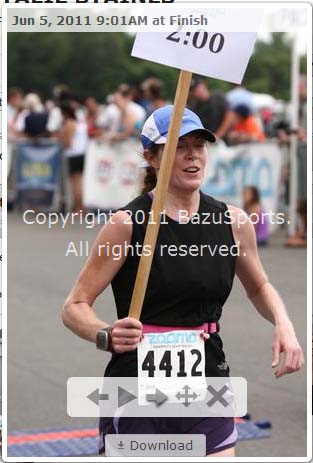 Leading up to mile 11 I lost a couple of my runners from the start who had to slow it down quite a bit and I picked up a new runner from Chicago who told me she had always finished this distance  just over two hours. She asked if she could finish with me so she could finally achieve a two hour time and I said, "Of course! It's what I'm here for!" But as we chatted through the mile, up the hill and toward mile 12 I looked at her and told her how great and relaxed she looked. I encouraged her to pick up her pace, telling her I was confident she could finish under two hours. She only hesitated for a moment and after asking if I wanted to join her, decided to go for it. I stayed with the two hour finish pace, feeling the excitement build as so many runners were nearing the last mile and realizing they would finish in two hours.
Finish Line Focus
Never have I worked so hard to not sprint over a finish line. On the last mile of the Zooma Half Marathon my only focus was on cheering on other runners, encouraging them to finish hard, finish strong and to make sure I hit that two hour time. I crossed in 1:59:45.
Immediately I was looking for my Chicago friend who gave me a big hug and thanked me for pushing her to a PR. Other runners came up to me and thanked me for being there, for keeping such a good pace and for encouraging them to meet their goal. I talked with women whose goal it was to beat me and I've never been so excited to congratulate someone for having done so.
Pacing the Zooma Half was extremely rewarding and I'm proud to have been part of the experience of so many women and fellow runners. Thank you for running with me.