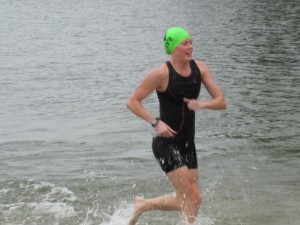 When I tell people I am training for a 1/2 Ironman most often the first question is, "what's that?" When I answer that it's a 1.2 mile swim, 56 mile bike, and 13.1 mile run, usually the next question is, "WHY?" And sometimes, "how long does that take?"
Most people I know lump me in the 'crazy' category for doing this and I know the overall percentage of people who do these events is small. If marathoners are 1% of the population I'm sure 1/2 Ironmen are a close second (though the 70.3 event has been quickly grown in popularity since its introduction in 2006). I'm ok with 'crazy' being part of my answer to 'why?' but I do have my reasons.
The idea came to me on the bike portion of my second triathlon, the Smith Mountain Lake Tri which was an Olympic distance event I did in Fall 2009 with my husband, sister- and brother-in-law, and a couple of their friends. On that 26 mile ride I remember thinking "I could go farther." And I spent the rest of the ride, and weekend, trying to convince myself and others to sign up for a 70.3 event. I knew that I could build the strength and skill to do the swim; I'm a runner so I'm confident in the run portion; and I figured I'd need a lot of work on the bike. So the short answer to 'why?' is because I can.
Of course, it's more than that. I like the challenge–the challenge of training, the learning curve of how to combine three sports in one event, the challenge of incorporating work-outs into life, the challenge of pushing myself harder each time. I love the focus and dedication that training requires. I like seeing myself make progress from one week to the next. I enjoy the feeling of getting stronger and knowing that my endurance is building. I like racing, preparation that goes into a race, pushing for the next personal record, the rush of an event, and the feeling of accomplishment at the end. Can I get all of these things out of shorter events? Absolutely. But I believe I am capable of completing 70.3 and so I am on a mission to do just that.
Yet another answer to 'why?' is because others cannot. Though I haven't participated in Team in Training and I haven't raced for any specific charity teams, I run, bike, and swim because others do not have the opportunity to do so. I am lucky to have my health and knowing that there are people out there fighting just to live, I am motivated by them to push as hard as I can.
Why do you race? How do you answer "why?"