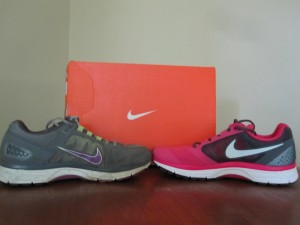 For as many things as I think I do right as a runner, there are some best practices that I somehow seem to neglect. Sufficient stretching is one area where I do not practice what I preach. (Strength training is another; I simply don't do it.) And, as I discovered recently, replacing running shoes in a timely manner is yet a third running best practice that I let go by the wayside. Many, many times I have told new runners and fellow runners about the importance of not only having shoes that are fit to your feet and running style but that are also not past their prime. Running in shoes that are past their mileage expiration date is a great way to potentially get injured. I'm not saying that worn shoes will cause injury, but I do think they could contribute to otherwise avoidable aches and pains.After my last long run, while stretching (ok, I do stretch, just not long enough or with much variation) I noticed the bottom of my shoes. It dawned on me that I bought my current Nike Vomeros after Connor was born and that wa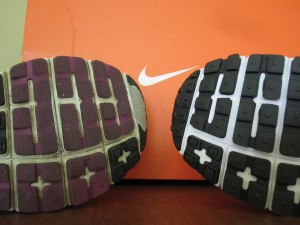 s well over a year ago. I called Charm City to confirm my suspicions (perks of a good running store–they track your purchase history) and sure enough, my shoes were a year old. A quick look at my Garmin reports showed that in the last 365 days I had logged 1,125.33 miles (605.5 of those miles in 2013). Granted, I do still wear my Nike Frees for short runs or speed work, but those are at least year old too. Yikes! And, if you wonder how often you should get new shoes, the answer will vary depending on who you ask. Answers range from every six months to every 300-400 miles, sometimes more, sometimes less. In my case, the wear on my shoes is a dead giveaway that it's time to replace running shoes.
Stick with Nike or Switch it up?
Every time I go to buy new running shoes I consider getting something other than Nikes. I've been on the Brooks email list for a few months now and it's been enough to build my consideration of their shoes. I love the Brooks brand for their gear and so when I walked into the running store I said I'd like to see the current Nike Vomeros and anything similar. The salesperson immediately said that the Brooks Glycerin would be worth trying. I tried a Brooks on one foot and a Nike on the other and the fit was nearly identical. I jogged around the store (with my now 1+ year old son chasing me) and could not tell a difference. The first pairs I tried were size 10 which is what I've been in for years.
My two fall marathons are both downhill courses (Big Cottonwood Canyon has 20 miles of descent and the Steamtown Marathon starts with 8 downhill miles) and I'd been talking with my long-distance training partner (and best friend who also teaches pilates) about the fact that we might need bigger shoes. She even connected with professional ultra runner, Scott Ludwig, who runs in toeless Nikes (Nike Straprunners) on downhill races! The point is while I was still perfectly comfortable in size 10, I noticed my toes are pretty close to the end so I asked to try a 10.5 in both shoes. Also comfortable. For grins I tried an 11, an entire running shoe size up, and thankfully it was awkwardly large. My foot was moving all over the place and I'd rather have my toes jam down a little than have the entire shoe be too loose.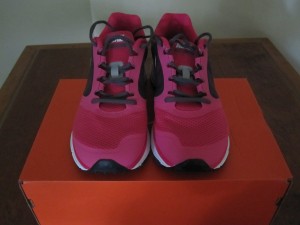 Size settled, the big decision was Nike or Brooks? While I was running around the store, I also had the salesperson pulling out trainers since those will be my next purchase. I tried the Brooks PureFlow 2 and funky lacing design aside, I was open to replacing my Nike Frees with a new brand. I decided that since I spend more time in my "standard" shoes, I would stick with Nike and continue to consider something else, like Brooks for speedwork/trainer shoes. Nike Zoom Vomeros for at least the fifth year in the row!
Ps. Fact check: Looking at the blog I wrote when I got the Nike Frees, I now know they are WAY older than I thought. New in January 2011. Definitely time for new trainers too!